Getting Your Online Psychology Degree
The online psychology degree is one of the most popular, diverse and convenient available, thanks to flexible coursework and program offerings at every degree level. Students are prepared to explore a variety of career opportunities where they can use their knowledge of the human mind to help others. Keep reading to start on your degree path and find your ideal online schools for psychology.
Last Updated: 05/11/2022
Sponsored
publicservicedegrees.org is supported in part by advertisements. Featured programs and school matching are for institutions that compensate us. This compensation will never influence our school rankings, in-depth guidebooks, or any other information or resources published on this site.
The Best Online Psychology Degree Programs for 2022
Given how popular the field of psychology is, there are now a tremendous number of choices for prospective online psychology degree-seeking students. To help make the school search process easier, we've compiled the following list of top online schools for psychology. We recognize that a top school for one student may not be ideal for another, so you can also choose the specific school characteristics that matter most to you and tailor your list accordingly. Our team ranked schools based on their affordability, support services for students, and online program availability. Overall affordability and online availability received the heaviest weightings. Find out more about each program below.
About the ranking
Methodology for the STEPS Best Online Programs in 2022
Generate List of Eligible Schools and Programs
To be eligible for this ranking, schools were required to meet the following criteria based on government data provided by The Integrated Postsecondary Education Data System (IPEDS).
Institutional accreditation from an organization recognized by the U.S. Department of Education.
At least one program in subject area offered partially or fully online.
Assign Impact of Data Points
After generating the list of eligible schools, the STEPS data team then assigned weights and ranked schools based on a mix of affordability, support services, and online program availability. Online program availability and overall affordability received the heaviest weightings.
Online Program Availability
Number of online programs in subject area reported by school to the U.S. Department of Education. When unable to verify this number, a star-based system was used to signify the number of programs relative to peers.
Affordability
Cost:
Relative cost of attendance compared to peer schools on the list. Based on tuition and fees per academic year.
Students w/ Institutional Aid:
Percentage of students who receive financial aid from the school itself.
Support Services
Academic Counseling:
Existence of this service on campus or online.
Career Placement:
Existence of this service on campus or online.
About Our Data
All STEPS rankings use the latest official data available from The Integrated Postsecondary Education Data System (IPEDS). Most recent data pull: July 2021
Explore Top Psychology Degree Programs in Popular States
Why Should You Pursue an Online Psychology Degree?
1
Understand the human brain
The human mind might be the most complex thing in the known universe. What better way to obtain a higher level of knowledge about how our mind works than to earn a degree devoted to its understanding?
2
Healing others
Many individuals suffer from mental health issues and just as many families struggle with relationship problems. A psychology degree can provide the training necessary to help individuals heal their minds and mend their relationships.
3
Improve lives
Sometimes people just want to better themselves, whether it's to have a more satisfying marriage, advance at work or become a happier person. Professionals within the psychology field can help clients achieve these goals.
4
Learn to think critically
Psychology is sometimes viewed as a "soft" science, but that's a misconception. Psychology is based on objective information, especially statistical data. When earning a degree in psychology, students learn to critically analyze statistical data, as well as scientific principles and theories.
5
Professional flexibility
A psychology degree allows individuals to work in a variety of settings and contexts. The skills and concepts learned in a psychology program, especially at the bachelor's level, translate well to almost any other career field. Many graduate degree holders work in private practice, clinics, hospitals or other health care settings. Others work in private industry, academics, or even careers that seem to have nothing to do with psychology.
How Do Online Psychology Courses and Programs Work?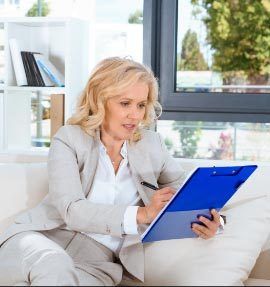 Because many of the concepts, principles, and information can be taught in a classroom, psychology is ideal for online learning. Many online psychology degree programs at the undergraduate level are available completely online, with no campus visits required.
Students interested in the master's or doctorate level should expect some in-person curriculum requirements, such as practicums, internships or the defense of a dissertation. Students at this level will spend more time on practical learning and applying their knowledge to real-world scenarios. Online graduate psychology students can expect most or all the classroom learning requirements to be available remotely.
Types of Online Psychology Programs: Exploring Your Options
Online psychology degree programs can be found at almost every postsecondary academic level. The type of academic credential will depend on the student's professional goals and prior academic training. When it comes to the study of psychology, there really is something for everyone.
Online Psychology Degree Levels
Let's take a quick look at online psychology degrees, including the academic and professional benefits they provide, and where they fit within other psychology degree options.
Undergraduate Programs
Undergraduate psychology degrees are perfect for establishing the foundational knowledge for anyone looking to become a psychologist through further education. But even for those who aren't sure what they want to do career-wise, an undergraduate certificate, associate degree or bachelor's degree will serve them well in a non-psychology professional field.
Associate Degree in Psychology
The associate degree in psychology is a great point of entry to receive a college education, and allows graduates to pursue a variety of jobs and positions that require a degree. For those specifically desiring a career in psychology, the associate degree provides an affordable opportunity to begin the process of earning a bachelor's in psychology without fully committing to a four-year program.
Bachelor's Degree in Psychology
The bachelor's degree in psychology is one of the most popular majors of all college students. It's great for those who are fascinated by the human mind, as well as for students who aren't sure what they want to do after they graduate. For example, those who wish to study business, social work, or law at the graduate level can use the bachelor's degree in psychology as a launching pad. Finally, for those looking for a career as a psychologist, a bachelor's degree is required for most doctoral level psychology degree programs.
What's better, a Bachelor of Arts in Psychology or a Bachelor of Science in Psychology?
The precise difference between a bachelor of arts and a bachelor of science in psychology depends on the specific school granting the degree. Generally, a bachelor of arts curriculum focuses more on a liberal arts education while a bachelor of science includes more science and math-related coursework. For those who want a broader education or aren't sure what they want to do after graduation, a bachelor of arts might be better due to the more diverse curriculum. Likewise, those who are certain they want to pursue a graduate degree in psychology or focus on a more research-oriented career might be better off with a bachelor of science degree in psychology.
Psychology Certificate
The certificate in psychology provides opportunities for undergraduates to gain a high level of knowledge in a particular subset of psychology while earning a degree in a different field. Some schools may allow undergraduate psychology students to concentrate in a particular field of their choice; but this may not always be possible, so students can seek an undergraduate certificate instead. In other situations, an undergraduate certificate provides an opportunity for students to try out a particular field before officially committing to an entire undergraduate psychology education.
Graduate Programs
The primary purpose of a graduate psychology degree is to prepare students for careers as psychology professionals. In most states, a graduate degree is required for licensure as a psychologist. This usually means a master's degree or a doctoral degree, such as a Doctor of Psychology or Doctor of Philosophy. Most research and teaching positions also require a doctoral degree.
Master's Degree in Psychology
A master's degree in psychology consists of approximately two years of full-time study. The coursework at this level allows the opportunity to specialize in a particular subset of psychology, such as addiction, sports, or industrial psychology. Depending on the job you're seeking, a master's degree can be sufficient, but a doctoral degree may still be required for full licensure. Even in these situations, a master's degree can still allow you to treat patients or clients and can shave significant time off the pursuit of a doctoral degree. Many master's level programs require an in-person internship or practicum as part of the curriculum.
Learn more about earning your master's in psychology online.
Doctor of Psychology (PsyD)
The PsyD degree is a terminal degree suited for advanced clinical practice. Unlike the PhD degree, a PsyD degree program focuses much more on practical training as well as the skills and knowledge necessary to treat a variety of patients in a clinical or medical setting. In practically all states, a PsyD meets the degree requirements for licensure.
Learn more about online PsyD programs.
PhD in Psychology
Like the PsyD, the PhD degree is a terminal level degree. The primary difference is a curriculum geared toward research and teaching. Those who would like to pursue research or teach at the postsecondary level will be more likely to pursue a PhD over a PsyD. Even though there is a greater emphasis on theory, an in-person practicum or internship may be required as part of the PhD curriculum. One of the defining features of the PhD degree is the dissertation, which is a comprehensive project that revolves around a specific research topic.
Learn more about earning an online PhD in psychology.
Graduate Psychology Certificate
Graduate level psychology certificates serve several potential roles for those who have at least a bachelor's degree. They allow students interested in a graduate psychology degree to sample what the coursework will be like. Students can gain a specialized level of knowledge without having to commit the time and money to a full-fledged graduate degree. Finally, graduate certificates can provide academic transfer credit later on if you choose to pursue a graduate degree in psychology.
Online Psychology Degree Specializations
Given the breadth of psychology, there are many opportunities for specializations and concentrations of study. In the early stages of academic training, these specializations are not as important as at the graduate level, but can serve as a knowledge base for later study, or help a student gain a diverse education. Below is an overview some of the more common specialization tracks available in online psychology degree programs, and a look at what degree level usually offers them.
| | Bachelor's | Master's | Specialist | PsyD | PhD |
| --- | --- | --- | --- | --- | --- |
| Clinical Psychology | | | | | |
| School Psychology | | | | | |
| Industrial Organizational Psychology | | | | | |
| Forensic Psychology | | | | | |
| Counseling Psychology | Pre-Counseling Only | | | | |
Clinical Psychology
This popular specialization focuses on the direct diagnosis and treatment of patients with disorders, mostly in a clinical setting. The curriculum includes a fair amount of hands-on training in real-world situations as well as advanced theory. In most programs, this is a formal specialization at the doctoral level, and that degree is what's often required in most states to become a licensed clinical psychologist.
School Psychology
As its name implies, school psychology applies psychological concepts and theories in the academic setting. School psychologists work in a team with teachers, administrators, parents and the students themselves to help those students learn more effectively; they also strive to help the teachers do their jobs successfully. The curriculum emphasizes theories of cognitive development, human behavior, social development, and principles of learning in children. Learn more about online school psychology programs.
Counseling Psychology
Counseling psychology is geared toward helping people with emotional or relationship issues. It is different from clinical psychology in that it places a greater emphasis on helping people understand and deal with their problems rather than treating disorders. However, clinical and counseling psychologists are very similar, and there is much overlap in what they do and how they are trained. Students seeking to specialize in counseling psychology may find a curriculum that's very similar to that of clinical psychology.
Forensic Psychology
Forensic psychology combines the disciplines of criminal law and psychology. This specialization is ideal for anyone who wants to apply psychological theories and ideas to individuals in the court system. Specifically, forensic psychologists assist judges and attorneys in assessing the mental state of courtroom participants. Students learn how psychological principles apply to the legal system, such as motivation, intent, behavior, and competence. Students will also learn about ethical and professional rules and codes, how to assess individuals, and how to communicate those opinions to legal professionals in an effective manner. Get more details about online forensic psychology programs.
Industrial Organizational Psychology
This specialization is perfect for anyone interested in examining the psychological nature of human interaction within an organizational setting, like a business. A successfully run organization depends on workers who are happy, so industrial organizational psychologists help employees, managers, human resource officers, and executives find ways to improve morale, increase teamwork, and boost productivity. Students can expect to gain a fundamental understanding of research methods, workforce training, and executive leadership.
Other Psychology Degree Specializations
There are some less-common specializations within an online psychology program as well, including the following:
Sports psychology
Addiction
Behavioral health
Pastoral counseling
Criminal psychology
Program Deep-Dive: Online Bachelor's Degree in Psychology
What do you learn in a bachelor of psychology online program?
The bachelor's degree provides a comprehensive and well-rounded education, plus the opportunity to gain a solid fundamental understanding of a chosen subject. A bachelor's degree in psychology is no different.
With approximately 120 credits worth of coursework needed to obtain a bachelor's degree, undergraduate students can expect to complete a significant amount of general education courses and electives. Depending on the program, students take about 40 to 55 credits in psychology. These core curriculum courses accomplish the following goals.
Major Topics Covered
The majority of bachelor's-level curriculums cover the same major topics. These include:
Research Methods
Introduction to Psychology
Statistics
Abnormal Psychology
Human Behavior
Cognition
Addiction
Perception
Several other general education requirements are essential for a complete education in psychology, such as writing, public speaking, and critical thinking.
Key Learning Objectives
The majority of online psychology courses at the bachelor's level serve as a foundational basis for the principles of how the mind works. Students learn how to think critically and analytically, which is useful when working with clients, making observations, and interpreting data. Should a student choose to gain further training, they will possess the basic concepts upon which more advanced theories and practical skills are based.
Skills Gained
After completing a bachelor's degree program, students will have a wide range of skills. These include the ability to:
Critically analyze statistical data
Understand the basis for commonly used psychological treatments
Grasp the scientific basis for a variety of human behavior
Effectively communicate both orally and through technical writing
Conduct credible research
Engage in scientific problem solving
What kind of online psychology courses will I be taking in a bachelor's program?
Schools design their curriculum to follow their academic philosophies and standards. Students will have ample opportunity to pick between optional courses and electives. Here are some of the online courses students can expect to take:
Introduction to Psychology
This is one of the few online psychology courses that all psychology students take. It provides a broad overview of the basic theories and principles in modern psychology, as well as a historical background concerning its development as a science. The material is completely knowledge based and can easily be understood through reading and lecture.
Statistical Methods
This introductory course explains the basic concepts of statistical analysis. Students learn about correlation, standard deviation, confidence intervals, histograms, and regression. Classroom instruction combined with exercises effectively conveys these concepts to students.
Psychology Research Methods
This course explains how psychological research takes place, including how to design, conduct, and analyze a scientific question and results from an experiment. Students will learn how to apply the scientific method to answer a question about human psychology. The bulk of the instruction is easily conveyed via recorded lectures and textbook materials.
The Basis for Human Learning and Behavior
The primary objective of this class is to teach the basic tenets and theories of behaviorism. Students also become familiar with the history and development of operant and classical conditioning. Course material is delivered through videos, lectures, and reading assignments.
Industrial Psychology
This course is sometimes paired with a lab class. Students receive training concerning the application of psychological principles to the workplace, including improving worker morale, productivity, and overall worker well-being. Despite including a lab, this course can still be completed fully online though special exercises and assignments.
Abnormal Psychology
As the course title implies, students will examine the causes, symptoms, and treatments for behavioral disorders often found in the human population. They are then able to read and watch assessments and treatments of patients by psychologists to gain an insight into mental health challenges commonly seen in the clinical setting.
Substance Abuse Addiction
Addiction is a common struggle among individuals seeking help from psychologists, counselors, and therapists. This course delves into the psychological underpinnings of addiction, including why they occur and why they're so difficult to treat. Students will also review treatment methods and their efficacy with the help of lectures, available textbooks, and course materials.
Capstone Project
This project provides an opportunity to apply what a student has learned to a specific question or area of interest. Students design and conduct research, then present findings through an oral presentation that can be delivered through remote learning technology.
How difficult is it to get into a bachelor's of psychology program? What are the admissions requirements?
Each school has their own admissions requirements. Some schools are easier to get into because they require fewer elements to submit a completed application. For example, some schools will require applicants to submit their SAT or ACT test scores and pay an application fee, while other schools do not require either.
If you're flexible about the school you're willing to attend, your odds of acceptance into a bachelor's program in psychology are better. For those wanting to attend a school with nationwide name recognition or obtain a financial aid award along with an acceptance letter admission may become more competitive.
Most schools require the following:
High school diploma or GED
Completion of an application
A minimum high school GPA (if applicable).
Some schools may also require students to submit proof they have completed a specific amount of mathematics coursework, such as college level algebra. This is due to the importance of statistics and research data analysis in studying psychology.
How expensive is earning a bachelor of psychology online?
There are many factors beyond tuition that determine the total cost for a bachelor's degree. One such factor is the type of school, such as non-profit, private, public and for-profit. After tuition, the biggest additional cost is added fees. To give you a rough idea of what to expect in terms of tuition, check out the following table. To see the lowest-cost quality programs, view our list of the most affordable online psychology bachelor's degrees.
| | No. of Credits | Cost/Credit | Total In-State Tuition | Total Out-of-State Tuition |
| --- | --- | --- | --- | --- |
| Penn State World Campus | 123 | $555 – $596 (maximum of $6,742 – $7,297 per semester) | $53,936 – $73,308 | $53,936 – $73,308 |
| Colorado State University Online | 120 | $476 | $57,120 | $57,120 |
| California Southern University | 120 | $425 | $51,000 | $51,000 |
| Arizona State University | 120 | $530 | $63,600 ($5,300 max per semester | $63,600 |
| Maryville University | 128 | $500 | $64,000 | $64,000 |
* Note: Tuition data up-to-date as of July 2019.
Read our financial aid and scholarship guides for helpful ways to pay for college.
How long does it take to earn a bachelor's degree in psychology online?
For the typical full-time student with no prior college credits, an online bachelor's degree in psychology takes about eight semesters, or four years to complete. With the differences in programs, the amount of academic credit a student can get from prior academic coursework or professional experience, as well as the pacing chosen, it can take as little as two years or as long as six or seven to earn this degree online.
What Can You Do with an Online Psychology Degree?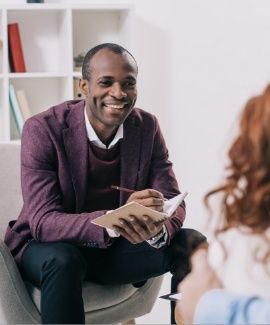 Regardless of your education level, there are some essential skills for psychology students that will be valuable throughout your career. After earning an associate or bachelor's degree, you can enter into almost any career that doesn't require a specific degree. While a graduate degree in psychology certainly allows you to be primed and ready to provide psychotherapy to others, there are other jobs open to someone with a master's, PhD, or PsyD degree in psychology. These include working as in a research laboratory setting, teaching psychology students, helping manage employees in a human resources office, consulting with legal professionals, and helping engineers design better products for consumers.
To learn more, visit our page dedicated to what jobs you can get with a psychology degree.
How Are Online Psychology Degrees Accredited?
When choosing an online psychology degree program, a prospective student must pay attention to accreditation. Accreditation ensures a school or program meets a certain standard of educational quality.
There are two primary types of accreditation: programmatic and institutional. The former refers to the specific degree program being accredited, while the latter refers to the school receiving accreditation. Depending on the degree level and course delivery method, there may or may not be an accrediting body that provides programmatic accreditation. For example, most programmatic psychology accreditation focuses on graduate programs, in particular those at the doctoral level, such as PsyD and PhD programs. One of the most popular programmatic accreditations comes from the APA Commission of Accreditation (CoA). However, the APA CoA does not accredit undergraduate or master's level programs. The APA CoA also does not accredit programs that exclusively use online methods of instruction. Therefore, for most online degree programs in psychology, prospective students should not expect to find programmatic accreditation, only institutional.
There may also be organizations that accredit psychology programs in a particular specialization, like the National Association of Schools Psychologists (NASP) does for programs offering a school psychology specialization.
Additional Psychology Degree Resources
Choosing a degree path is an important decision, so it never hurts to get additional information and advice about a future career. We've compiled a list of resources that provide fantastic objective and comprehensive information about what it takes to obtain an education or career in psychology.
American Board of Professional Psychology (ABPP)
The ABPP is a prominent and well-known professional organization, which provides 15 Specialty Board Certifications in Psychology.
American Psychological Association (APA)
The APA is the premier professional organization for psychology professionals, with members spanning multiple realms, including clinicians, educators, and students.
Bureau of Labor Statistics – Psychologists
This is one of the most complete overviews of the job of a psychologist, including what they do, how to become one, and what kind of growth prospects to expect.
PayScale – Psychologist
Detailed salary information about the psychology profession, including data that factors in specialties, experience, and location.
Psi Chi
This is the international honor society for students and educators in psychology, who believe in the advancement of science and study of psychology.
Psychology Today
Probably best known for its namesake magazine, Psychology Today is also a great resource for getting help for mental health issues and learning more about common emotional and cognitive challenges.