Inside Look at Clinical Psychology Master's Programs Online
From a list of top-ranked schools to a breakdown of what you'll learn and career options after graduation, here's everything you need to know about online clinical psychology master's programs.
Last Updated: 03/04/2021
An online master's degree in clinical psychology is an excellent option for anyone interested in assessing and treating mental illness and abnormal behavior and providing psychiatric therapy to individual patients, families, and groups. A clinical psychology master's offers access to a range of in-demand and well-paying jobs. It's also a pathway to earning a doctorate and becoming a licensed, clinical psychologist.
Healthcare professionals will appreciate the convenience, flexibility, and affordability of an online clinical psychology master's program. There are several to choose from, and this guide can help you find the best fit. The information and advice below can help you discover an accredited online Master of Clinical Psychology degree program and launch a rewarding career as a clinical psychology professional.
The Top Online Clinical Psychology Master's Programs of 2021
Highlighted below are three of the best online master's in clinical psychology programs available. These programs were chosen based on factors such as accreditation, cost, study options and flexibility, and curriculum quality. Every program has an individualized take on the subject, and the three below will give you an idea of what to expect.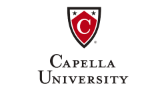 The Master of Science in Clinical Psychology program at Capella University prepares graduates for careers in research, consulting, and clinical practice settings. It also prepares them for earning a doctorate-level degree. Capella students choose from specializations in Applied Research, Clinical Counseling, and Forensic Psychology. All specializations feature online coursework. Both the Applied Research and Forensic Psychology programs can be completed 100% online. The Clinical Counseling specialization requires attendance at two 5-day residencies offered at locations throughout the U.S. Students must also complete at least 600 practicum hours under the supervision of licensed psychologists at a program-approved site.
Admission requirements for these specializations include a bachelor's degree from an accredited college or university. Applicants must submit official undergraduate transcripts indicating a cumulative GPA of 2.3 or higher. GRE and GMAT scores are not required.

Pepperdine University's online Master of Arts in Clinical Psychology program combines 62 units of fully-online coursework with in-person clinical training at a practice facility near a student's home. Students choose one of two license options, both of which lead to professional licensure in California or one of 18 other states. The LMFT Path is for individuals interested in helping clients with problems stemming from marriage and family dynamics through the diagnosis and treatment of such issues as depression, trauma, and substance abuse. Students opting for the LPC Path take a broader approach, learning to diagnose and treat the full spectrum of emotional, mental, and addictive disorders for clients on the individual, family, group, and organizational levels.
For licensure in California, students complete a four-term practicum that includes in-person clinical hours (225 hours for LMFT students, 280 hours for LPC students) spent directly with clients. For licensure outside of California, students must complete 700 clinical hours, including hours spent directly with clients (225 for LMFT students, 280 for LPC students). Application requirements include a bachelor's degree, two letters of recommendation, and a purpose statement. The degree program can be completed in as little as 27 months.
University of West Alabama

UWA's online Master of Science in Experimental Psychology with Clinical Psychology Option is designed for individuals intending careers in health psychology, the behavioral sciences, medical research, and more. The degree is also a good choice for those seeking research or experience for pursuing a psychology doctorate. The curriculum for the clinical psychology option consists of 39-57 credit hours of coursework and can be completed in one to two years. Students can either pass a comprehensive examination or complete a thesis (recommended for students pursuing a doctorate) as their terminal program activity. Earning the degree alone does not qualify graduates for LPC or another counseling licensure, but students can qualify for LPC licensure by meeting state licensing (fieldwork hour) requirements.
Admission requirements include a bachelor's or master's degree with a minimum 3.0 GPA, at least nine hours of undergraduate-level psychology coursework, and GRE scores meeting the stated minimum. Applicants must also submit a purpose statement, three academic references, and a list of UWA faculty members they are interested in working with.
How to Choose the Right Online Clinical Psychology Master's for You
The key to finding the right clinical psychology master's program online begins with knowing your career goals, if you can fit a degree program into your current schedule, and how much you can afford to spend on a degree program in terms of both money and time. With this information in mind, move on to surveying the accredited online clinical psychology master's programs available. Important factors to consider include affordability, curriculum comprehensiveness, program format, course access options and study flexibility, available specializations or concentrations, and access to support services.
Another important factor is proximity to your school's campus since many programs are in a hybrid (part online, part on-campus) format. That means you'll need to come to campus to attend some classes and/or participate in orientation meetings, seminars, thesis defense, etc.
What You'll Learn in Clinical Psychology Master's Programs Online
Students of clinical psychology master's programs acquire relevant knowledge and skills to prepare them for work in research, academics, and clinical practice. This includes:
A foundational understanding of historical and current psychological theory.
Skills for the proper assessment, diagnosis, and treatment of mental illnesses and behavioral disorders.
The ability to create, develop, and conduct research projects and to properly assess, summarize, and present research results.
A solid understanding of relevant ethical and legal principles and standards of psychology, and the ability to apply those principles and standards in day-to-day professional practice.
Concentrations in Clinical Psychology Master's Programs Online
Graduate degree programs sometimes offer students the option of focusing on a particular area within the broader major subject. Opting for such a concentration track can be a great way to stand out in the job market. However, most online clinical psychology master's programs are not offered with designated specialization options. The two exceptions are the programs at Pepperdine University and Capella University (both highlighted above) whose concentration options are described below:
Applied Research
The Applied Research concentration is designed for students pursuing a PhD or PsyD degree and continuing into advanced research careers. Coursework emphasizes foundational clinical psychology subjects (psychology and counseling theory, assessment, psychopathology, ethics, etc.) and advanced research skills (research methods, tests, and measurements, etc.)
Clinical/Professional Counseling
This concentration prepares students to provide professional counseling services to individuals and groups dealing with phobias, anxiety, and other mental health issues. Coursework covers foundational psychology and counseling theory as well as concentration-specific subjects such as clinical interventions, psychological testing, group counseling, career counseling, and addiction-related treatments. With the addition of required fieldwork, graduates may qualify for licensure as an LPC.
Forensic Psychology
This concentration is for students interested in understanding the behaviors of criminals and the workings of criminal minds. Along with foundational coursework in psychology theory and practice, students complete courses covering psychology and the law, forensic techniques, and issues and trends in forensic practice.
Marriage and Family Therapist
This concentration prepares students for careers helping people with issues related to marital, parent-child, and family conflicts including depression, substance abuse, stress, grief, and others. This concentration along with required fieldwork may qualify graduates to pursue professional licensure to become a Licensed Marriage and Family Therapist (LMFT).
Popular Classes in Online Clinical Psychology Master's Degree Programs
Every online clinical psychology master's program features a proprietary curriculum with course titles and sequences tailored to its academic philosophy and goals. You'll still find courses in each covering identical or similar clinical psychology subjects. Below are examples of five courses you'll likely encounter regardless of the specific program chosen:
Ethical and Legal Issues for Mental Health Professionals
Examines ethical and legal principles and issues as they relate to the roles and functions of clinical psychology professionals and their practices. Students identify and analyze specific issues (cultural, privacy, patient-client relationship, etc.) within the context of various practice settings and apply appropriate ethical reasoning, principles, and standards.
Psychopharmacology
This course examines the pharmacological therapeutic effects of psychoactive drugs on the brain and behavior. Topics include historical and current theories of psychopharmacology, brain structure and function, synaptic transmission, drug side effects and addiction, and the efficacy of treating patients with a combination of psychotropic medications and psychotherapy for mental disorders.
Psychology of Substance Abuse and Addictions
This course surveys current issues and trends related to the diagnosis and treatment of substance and non-substance related addictions. Emphasis is on the range of factors (physiological, cognitive, emotional, social, and behavioral) that determine the development of addictions and on the intervention strategies and treatments for various types of chemical dependency and substance abuse.
Research and Evaluation Methods
This course focuses on the relevant methods employed in creating, developing, and conducting psychology-related research and on the proper evaluation and presentation of research results. Topics covered include experimental and correlational design methods, levels of measurement, statistics and their use in hypothesis testing, systemic and cultural influences on research, and the employment of research in evidence-based practice.
Psychopathology
This course examines the historical and conceptual perspectives of psychopathology along with the current methods used in the classification and diagnosis of psychological states and abnormal behavior. Specific topics include etiology of psychopathology; interviewing, assessment, diagnosis and treatment methods; emerging diagnoses; the politics of mental disorders; and related ethical and cultural issues.
What Can You Do with a Master's Degree in Clinical Psychology?
If you're interested in continuing your education, you'll be well qualified to pursue a clinical psychology doctorate degree online or through a traditional campus program. Meanwhile, those who want to jump straight into a career can qualify for various jobs with a master's degree in clinical psychology. Positions are available in research, academics, and clinical practice. Potential employers include government agencies and facilities; public and private schools and school districts; colleges and universities; hospitals, clinics, and other healthcare facilities; and private practice. Below are five occupation examples.
Clinical Supervisor
Clinical supervisors (or clinical directors) organize and oversee the administrative operations of healthcare facilities and programs. Duties include budget planning, overseeing the hiring and training of facility personnel, staff scheduling, supply and inventory management, evaluating patient care and staff performance, and development and supervision of long-term organizational strategies.
Licensed Professional Counselor (LPC)
LPCs work in hospitals, treatment centers, governmental agencies, large corporations, and private practice. They also may work as individuals or as part of a larger practice group. Typical job duties include conducting counseling therapy sessions with individuals, couples, and groups; assessing, diagnosing, and treating psychological issues like depression, substance abuse, PTSD, and domestic and sexual abuse; and creating and maintaining treatment records. LPCs must meet and maintain state-mandated licensure requirements.
Marriage and Family Therapist (MFT)
Marriage and family therapists work with individuals, couples, and families to evaluate and help resolve problems within clients' relationships. MFTs often work in private practice, but they may also work in social service agencies, hospitals, and outpatient clinics. MFT licensure requirements vary from state to state, so it's crucial to fully understand the requirements before enrolling in any clinical psychology master's program.
School/Career Counselor
School counselors help students in their personal, social, and academic development. Career counselors help individuals discover job skills and develop appropriate career paths. Counselors work primarily for private and public schools, and duties include conducting aptitude, interest, and personality tests; advising individuals on degree programs and course choices; advising students regarding education requirements for different occupations; and helping clients develop effective academic and job skills.
Substance Abuse Counselor
Substance abuse counselors provide therapy services to clients struggling with alcohol and drug use issues. Primary job duties include evaluating client health (mental, emotional, and physical), addiction, and behavior issues; assessing client readiness for treatment; and providing counseling individually and in support group settings. Substance abuse counselors work at hospitals and government agencies and in residential and outpatient substance abuse and mental health facilities.
Reviewing Accreditation for Online Clinical Psychology Master's Programs
Accreditation of postsecondary institutions and their programs recognizes institutions for meeting standards of academic quality and program comprehensiveness. It's hard to overstate the importance of proper accreditation when selecting your online clinical psychology master's degree program. Simply put, never consider any program not properly accredited.
There are two fundamental forms of postsecondary accreditation in the U.S. Institutional accreditation concerns the vetting of colleges and universities as a whole, with all departments and programs within the school contributing to meeting academic objectives. This accreditation is carried out by independent national and regional accrediting agencies recognized by the U.S. Department of Education. Programmatic accreditation vets individual degree programs offered by U.S. postsecondary institutions. A small number of traditional, on-campus clinical psychology master's programs are accredited through the Master in Psychology and Counseling Accreditation Council (MPCAC), but most in-person programs and all online programs are not. The absence of MPCAC accreditation does not exclude a program from consideration as long as it is offered by a school with proper institutional accreditation.
Accreditation information for clinical psychology master's programs can typically be found on either the program's webpage or the school's accreditation webpage.
FAQs About Clinical Psychology Master's Programs Online
How long does it take to earn a master's in clinical psychology online?
Online clinical psychology master's programs vary in length from school to school as well as for individual students. For example, University of West Alabama students can complete their entire program in one to two years, while students in Pepperdine University's program need at least 27 months. The differences are due to many factors, including total credits required, number of credits for previous coursework eligible for transfer, individual student study pace, and required fieldwork hours.
What are the admissions requirements for an online clinical psychology master's?
Every online clinical master's program has a unique set of admissions requirements, so review each carefully. In general, programs all have admission requirements similar to the following:
A bachelor's degree: All online clinical psychology master's programs require, at minimum, a bachelor's degree from a properly accredited college or university. Most programs do not require that the degree be in any specific subject.
GPA: All programs require transcripts from any postsecondary coursework to confirm applicant meets a specified minimum GPA. Minimums vary by program. Some programs only require a minimum GPA on psychology coursework.
Other requirements: Programs sometimes require letters of recommendation and/or personal statements. International students may be required to submit proof of English language proficiency.
Do I need to take the GRE to get into an online clinical psychology master's program?
It depends on the specific program. Those requiring GRE test scores typically designate a minimum score requirement. Some programs waive GRE requirements for applicants with a specified minimum GPA on previous college-level coursework.
How much does an online clinical psychology master's degree cost?
Costs vary significantly by program. Factors affecting cost include program length, total credit hours, transfer credits, and whether a school is public or private. The table below gives an idea of the current tuition prices for online clinical psychology master's programs. Remember, though, the total cost will be higher due to additional program fees, the cost of books and supplies, internet access fees, etc.
Will I learn the same skills in an clinical psychology master's program online as in an on-campus program?
All online clinical psychology master's programs mentioned in this guide are properly accredited with coursework identical in quality and content to that in their school's on-campus programs. So, rest assured that the master's in clinical psychology degree you earn online will provide you with the same knowledge and skills – and be held in the same regard – as its on-campus counterpart.
Can I earn my clinical psychology master's 100% online?
It depends on the specific program and/or specialization. For example, Capella's Applied Research and Forensic Psychology specializations can be completed 100% online. Its Clinical Counseling specialization, however, includes in-person residency and internship requirements. Also, licensure to practice in most states requires completion of in-person fieldwork, so programs (like Pepperdine's) leading to licensure include some form of in-person field placement (internship or practicum). Licensure fieldwork requirements are different in each state, so have a clear understanding of your state's requirements before enrolling.