Online Social Work Degrees: Best in 2023
Thinking about starting or continuing your social work education with an online degree? Here's everything you need to understand your program options, find a quality school, and take the next steps on your social justice journey.
Last Updated: 05/04/2023
Sponsored
publicservicedegrees.org is supported in part by advertisements. Featured programs and school matching are for institutions that compensate us. This compensation will never influence our school rankings, in-depth guidebooks, or any other information or resources published on this site.
Best Accredited Online Colleges for Social Work in 2023
Here is our list of the best online colleges for social work degree programs in 2023. To create this list, we considered various factors such as study format and flexibility, affordability, a comprehensive curriculum, and proper accreditation. However, it is essential to keep in mind that the best online college for you is one that provides a social work degree program that aligns with your professional goals, study requirements, financial situation, and daily schedule. Our list can help save you time by highlighting the critical factors you value the most.
About the ranking
Methodology for the STEPS Best Online Programs in 2022
Generate List of Eligible Schools and Programs
To be eligible for this ranking, schools were required to meet the following criteria based on government data provided by The Integrated Postsecondary Education Data System (IPEDS).
Institutional accreditation from an organization recognized by the U.S. Department of Education.
At least one program in subject area offered partially or fully online.
Assign Impact of Data Points
After generating the list of eligible schools, the STEPS data team then assigned weights and ranked schools based on a mix of affordability, support services, and online program availability. Online program availability and overall affordability received the heaviest weightings.
Online Program Availability
Number of online programs in subject area reported by school to the U.S. Department of Education. When unable to verify this number, a star-based system was used to signify the number of programs relative to peers.
Affordability
Cost:
Relative cost of attendance compared to peer schools on the list. Based on tuition and fees per academic year.
Students w/ Institutional Aid:
Percentage of students who receive financial aid from the school itself.
Support Services
Academic Counseling:
Existence of this service on campus or online.
Career Placement:
Existence of this service on campus or online.
About Our Data
All STEPS rankings use the latest official data available from The Integrated Postsecondary Education Data System (IPEDS). Most recent data pull: July 2021
5 Must-Ask Questions When Researching Online Social Work Programs
1
Is the social work program accredited by the Council on Social Work Education?
2
Does the curriculum satisfy social work licensing requirements in the state you want to work in?
3
Does the school offer internships and other fieldwork opportunities in your area?
4
Is the degree program offered in a format that fits your schedule?
5
Does the program accept transfer credits from other schools?
How Do Online Social Work Programs Work?
Online degree programs aren't suitable for everyone as they demand self-discipline, exceptional time-management skills, and basic computer and internet proficiency. Nevertheless, most students discover that with practice, online learning is a productive and efficient way to acquire knowledge.
Social work courses are well-suited for online study, which is why many degree programs offer partially or fully-online coursework. However, it's important to note that all online bachelor's and master's degree programs will require students to complete an in-person field experience, internship, or practicum. More information about these in-person requirements can be found below.
Here's a detailed look at the formats and course delivery methods common to online social work degree programs:
Program Formats for Online Schools of Social Work

Part-Time
Part-time study is a common component of online degree programs, including social work degrees, as online study is often more compatible with full-time or part-time employment. Many online students face financial constraints and cannot afford to attend their degree programs full-time while balancing work and family obligations. Part-time programs generally permit students up to two extra years to complete their studies, compared to full-time four-year programs.

Full-Time
Full-time study is often available as an option in addition to part-time study. The primary benefit of full-time programs is that students can complete their degrees and start their careers in a shorter amount of time compared to part-time programs. Typically, online social work bachelor's degree programs require four years of full-time study for students without prior college experience, while degree completion programs can often be completed in two years or less of full-time study.
Online Course Delivery Methods for Social Work Programs

Asynchronous
Asynchronous courses are those in which students can log on and carry out their studies at any time. Students typically view prerecorded lectures, review written materials, and complete assignments at times most convenient to their personal schedules and at a pace that best suits their unique study styles. However, students are still normally required to complete coursework (assignments, quizzes, exams, etc.) by given deadlines.

Synchronous
Synchronous (aka "live") course delivery is similar to traditional on-campus classes in that students must attend class lectures or other related activities on specific dates and times, albeit virtually. Synchronous classes are most often (but not always) scheduled during the day, making them a more common feature of full-time online social work degree programs.
On-Campus Requirements for Online Social Work Programs
While some students can complete their online social work degree programs entirely remotely, other programs may require in-person student participation. These typically involve special lectures, seminars, labs, and/or exams. Initial orientation sessions, which may last several days, are also a common mandatory in-person activity, even for some programs designated as "fully-online." It's important to inquire about any on-campus attendance requirements prior to enrolling in any online degree program.
What Types of Social Work Degrees Can You Earn Online?
Online social work bachelor's degree programs are surprisingly common in the United States. Less common but still available are online social work programs at the associate, master's, and doctoral levels. Below is a brief look at all of these degree offerings, including what each one entails and who each is best suited for.
Online Associate Degrees in Social Work
There are only a few online Associate in Social Work degree programs currently available. These programs typically require 2 years of full-time study, just like their traditional counterparts. Keep in mind that almost all entry-level social work jobs minimally require a bachelor's degree, so ASW students should approach their degree programs as a convenient and cost-savings way to acquire college credits that will eventually be applied toward earning a social work bachelor's degree.
Online Bachelor's Degrees in Social Work
A bachelor's degree in social work is a necessary prerequisite for a professional career in various positions across the social work, social welfare, and human services fields. Firstly, it qualifies the degree holder for entry-level, generalist practice jobs. Secondly, individuals with a bachelor's degree are eligible to apply for master's degree programs in various specialized areas of study such as sociology, psychology, counseling, child development, and social work.
Online bachelor's degree programs in social work are widely available, offered by public and private colleges and universities throughout the United States. The duration of the programs varies, but students without any transferable college credits should plan on completing four years of full-time study to earn their degrees. Part-time programs may require more than four years to complete. Additionally, social work degree completion programs with shorter durations are also available.
Available Online Social Work Bachelor's Degrees
Bachelor of Social Work (BSW)
The BSW is the most common title for bachelor's degrees in social work. The BSW prepares graduates for generalist social work practice in which they will interact directly with clients, assessing their needs, monitoring their progress, and directing them to additional relevant services. A typical BSW curriculum includes general education courses, along with foundational generalist study within the social work field.
Bachelor of Arts in Social Work (BASW)
The "BA" in BASW refers to the degree program's foundation in the liberal arts. It is sometimes perceived as more of an academic degree than the more professionally-specific BSW degree. In practical terms, however, there is little difference between BSW and BSAW curriculums. There's also virtually no difference between BASW-titled and BSW-titled degrees in terms of professional influence and effectiveness.
Bachelor of Arts in Social Welfare (BASW)
The difference between the terms "social work" and "social welfare" in the titles of bachelor of arts degree programs is negligible. However, some BA in Social Welfare degree curriculums may focus more specifically on the study of social welfare issues and policies within a social science context, as compared with the more practice-minded BSW or BASW degree programs.
Bachelor of Science in Social Work (BSSW)
The BSSW prepares students to take on the same entry-level social work jobs and offers the same graduate degree opportunities as the BSW or BASW. The only real difference is in curriculum, with BSSW programs placing a greater emphasis on math- and science-related coursework.
Master of Social Work (MSW)
An MSW degree prepares students for specialized clinical licensure and practice in the social work field. Most online MSW programs require two years of full-time study to complete. However, there are numerous part-time online programs available that allow for a more flexible timeline for degree completion. Applicants with a bachelor's degree in almost any major may be admitted into an online MSW program. Additionally, those with a BSW may be eligible to enroll in an advanced standing MSW program that can be completed in as little as 12 months.
Learn more about earning your Master of Social Work (MSW) online.
Doctor of Social Work (DSW)
The DSW degree is a practice-focused doctorate designed for clinical specialists seeking to advance their careers into management and leadership roles. DSW programs are specialized and highly competitive, many requiring applicants to hold an MSW degree. Others will admit individuals with a master's degree in a closely-related field such as public administration, public health, nursing, education, or business administration. Applicants must also possess substantial work experience. Most online programs are offered with hybrid-format coursework, and all will include completion of in-person residencies. Study is typically full-time, with most programs varying in length from 2 to 4 years.
Learn more about earning your Doctor of Social Work (DSW) online.
PhD in Social Work
The PhD in Social Work is geared toward professionals interested in advanced careers in academic research and education. Online programs feature fully- or partially-online coursework, but curriculums focus heavily on intensive advanced research and teaching experiences, both of which require substantial in-person residency participation. Most programs require applicants to hold an MSW degree, with admission via master's in a closely-related field an exception. Substantial Licensed Clinical Social Work (LCSW) experience – whether required for admission or not – is common, with most applicants possessing a decade or more of professional practice.
Learn more about earning your PhD in social work online.
No matter which degree level you're enrolled in, there are some essential skills for social students that will prove to be extremely valuable. Learn which skills matter most while you're in school and discover how each of them can work to your advantage in the professional world.
Program Spotlight: Online Bachelor's Degree in Social Work
Having a bachelor's degree in social work is essential for anyone seeking a professional career in the field. Therefore, it's crucial to have a full understanding of what a social work bachelor's degree program is all about before committing to any specific program. Below are answers to several common questions regarding online social work bachelor's degrees to help you make the best and most informed program decision:
What will I study in an online social work bachelor's degree program?
A bachelor degree in social work prepares students for generalist practice positions in a variety of work environments. To that end, students should expect coursework to cover a number of common topics, including:

Human behavior across the lifespan, and in a variety of social environments (family, work, community, etc.);

Social work and research methodologies;

Social policy and advocacy;

History of social work;

Cultural diversity and minority group issues as they relate to social work;
Students will additionally gain hands-on skills working with clients through completion of required field experiences within their communities.
What are the major learning objectives of a bachelor's in social work?
Any online social work degree program you consider should be able to supply you with a comprehensive list of its student learning outcomes expressed as demonstrable competencies. For bachelor's degree programs, these competencies commonly include, among others:

Identification as a social work professional;
Application of ethical principles;
Application of critical thinking skills;
Engagement of diversity and difference in practice;
Understanding and advocacy of social policies concerning human rights, and social and economic justice;
Engagement with both practice-informed research and research-informed practice;
Engaged practice (access, evaluation, intervention, collaboration, monitoring, etc.) with individuals, families, organizations, groups, and communities.
What are some common social work courses I should expect to take online?
In addition to required general education coursework, social work bachelor's degree students will complete a range of major-specific core and elective courses covering generalist and, in some cases, specialization topics. Below are a few examples of the types of social work online courses most students will encounter as part of their bachelor degree program's curriculum:
Applied Social Work Statistics
Databases are an important tool to all social service agencies. Students in this course learn to set up, maintain, and use those databases in order to make proper clinical decisions for their clients. Students are additionally taught how to use database systems to improve interventions, and obtain funding for their agencies and programs.
Child Welfare
This course offers an introduction to the subject of child welfare, beginning with a brief history child welfare services, and followed by a review of basic child welfare concepts. A range of relevant topics is discussed, including child abuse and neglect, teen pregnancy, and foster care.
Human Behavior and Social Environment
Provides an understanding of the functioning of families and individuals in their social environment through the use of applicable theory and research. Emphasis is placed on a biopsychosocial approach for analysis of various social forces on family and individual dynamics.
Social Welfare Institutions and Disenfranchisement
Students in this course learn to identify individuals and groups with a high likelihood of disenfranchisement. Emphasis is placed on various methodologies for dealing with inequity of opportunities, goods and services due to factors such as gender, education and economics.
Social Work in Mental Health Settings
Students are taught how to identify and assess issues involving persons who have been diagnosed with mental disorders using the DSM handbook. The course looks at a variety of mental health settings, specifically in regard to special populations like minorities, women, children, persons with disabilities, and others.
Writing for Social Work
This course focuses on the importance of efficient and effective writing for the social work professional. Students learn general writing, editing, and proofreading skills based on the AP style. Students are additionally taught skills specific to social work research and documentation. Coursework is composed of in-class writing assignments that are reviewed and edited by both the instructor and fellow students.
What's the difference between a standard program and degree completion social work program?
Standard degree programs are those in which students enter with little or no prior college-level coursework. Many online social work bachelor's degree programs, however, are offered in the degree completion format. Degree completion programs require applicants to have a substantial number of previously-earned undergrad college credits (from an associate degree or otherwise). These credits apply to their bachelor's degree program, thus saving both time and money. Transferred-in credits typically fulfill general education course requirements, allowing students to move directly into major-specific core and elective coursework. Degree completion programs often allow students to cut total study time in half when compared to the typical 4 years needed for standard programs.
What are typical admissions requirements for a social work bachelor's degree?
Not surprisingly, specific admission requirements vary by school, particularly between standard and degree completion programs. Nevertheless, most programs will require the following:
Standard Programs
High school diploma or equivalent (GED): Most programs include a minimum GPA requirement for high school coursework, as evidenced by submission of official transcripts.
SAT or ACT exam: Each program designates its own acceptable minimum exam scores. Most schools will accept results from either test, but some mandate scores from only one.
Prerequisite coursework: Some standard programs require completion of some specific college-level courses, normally earned either prior to admission into the school, or following admission to the school but before admission into the social work degree program itself. Minimum composite GPA requirements for these courses normally apply.
Personal statement and/or letters of recommendation.
Degree Completion Programs
Social work bachelor's degree completion programs typically forego the high school GPA and SAT/ACT exam requirements, replacing them with composite minimum GPA requirements on the applicant's previously-earned college coursework.
Is a practicum, internship or other type of professional fieldwork required? How does it work in an online program?
Professional fieldwork – commonly termed as a practicum, internship, or field experience – is a requirement of all bachelor's and master's degree programs in social work, online and otherwise. Bachelor's students should expect a minimum of 400 fieldwork hours, while master's students will likely be required to complete a minimum of 900 fieldwork hours. Online students work directly with their programs to locate acceptable facilities in or near their home communities where their fieldwork requirements can be fulfilled.
How much does earning a bachelor of social work online cost?
Total costs for earning a social work bachelor's degree online vary substantially from program to program due to a variety of factors, including – most predominantly – whether the student is an in-state or out-of-state resident, and whether the school is a public or private institution. Students may also find their total costs reduced significantly depending on the number of previously-earned college-level course credits accepted into the program. The chart below offers per-credit costs for a sampling of online social work bachelor's degree programs, as of the summer of 2019.
*Total includes both general education and degree-specific course requirements.
**Additional fees may apply.
Learn about ways to help pay for college by reading our guides on financial aid and scholarships.
What Are My Career Options with an Online Social Work Degree?
One of the most attractive aspects of earning a degree in social work is the broad range of career opportunities that it presents. Besides pursuing a career as a social worker in settings such as schools, hospitals, and correctional facilities, individuals with a bachelor's degree may qualify for various job titles, including mental health worker, behavioral management aide, probation officer, and more.
Career advancement into supervisorial and advanced specialized practice positions is also available, but will likely require completion of a corresponding graduate degree program. The most important thing to remember is that career options for graduates of properly-accredited online social work degree programs enjoy the same career options as graduates of traditional on-campus programs.
To learn more about career options, visit our page dedicated to what jobs you can get with a social work degree.
Accreditation for Social Work Schools and Programs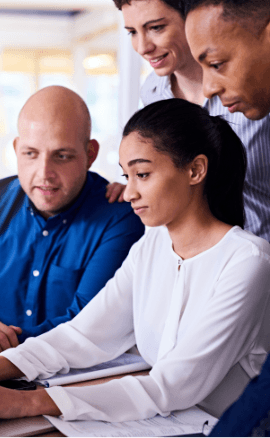 Both proper institutional and programmatic accreditation are of the upmost importance when choosing any college degree program, online or otherwise. Students should consider only degree programs offered by colleges and universities institutionally accredited by an agency or agencies recognized by the U.S. Department of Education.
Programmatic accreditation for college degrees in social work is administered by the Council on Social Work Education (CSWE). CSWE accreditation is important because it ensures that the accredited program meets important curriculum competency standards that indicate that graduates understand and can apply the proper ethical standards and critical thinking necessary to professional social work practice. Additionally, graduation from a CSWE-accredited degree program is a prerequisite in most states for obtaining necessary state licensure, as well as a typical requirement for advanced standing in most MSW degree programs.
10 Helpful Social Work Education Resources
There is a wealth of online resources available to prospective social work degree students. The list below represents a small sampling of what's available to learn more about practice areas and career opportunities, find help in education financing, search for jobs, and more.
American Clinical Social Work Association (ACSWA)
National organization of clinical social workers, including graduate students.
Association of Social Work Boards (ASWB)
Nonprofit organization owned by the social work regulatory boards and colleges in the U.S. and Canada. Administers exams required for licensure in all states (with the exception of California.)
Bureau of Labor Statistics – Occupational Outlook Handbook
U.S. Department of Labor site that provides important information and data for almost any career, including this page on social workers.
CareerOne Stop
U.S. Department of Labor site offering extensive career exploration (including helpful videos) and job search information.
Child Welfare League of America (CWLA)
Coalition of public and private agencies serving vulnerable children and families.
Council on Social Work Education (CSWE)
The major organization representing and accrediting social work education in the U.S.
Federal Student Aid
The U.S. Department of Education's information clearinghouse site for all federal student scholarships, grants, loans, and more.
National Association of Social Workers (NASW)
National organization of professional social workers dedicated to the professional development and growth of its members.
National Health Service Corps (NHSC)
Federal government organization dedicated to supporting healthcare providers in areas of the U.S. with limited access to care. Offers scholarships and loan repayment programs to qualifying healthcare providers.
Social Work Today
Preeminent magazine for the social work profession. The site provides access to current and archived articles, as well as other exclusively online resources.