Online Education & Teaching Degree Programs
Explore top schools, learn the ins and outs of online learning, and learn what it takes to earn your education and teaching degree today.
Last Updated: 05/11/2022
Sponsored
publicservicedegrees.org is supported in part by advertisements. Featured programs and school matching are for institutions that compensate us. This compensation will never influence our school rankings, in-depth guidebooks, or any other information or resources published on this site.
Top Schools for Online Education & Teaching Degrees: 2022
Finding the right online degree program is important, especially in education and teaching. In addition to having convenient online coursework, you need a program that makes it possible to learn key face-to-face skills without sacrificing cost or quality. The following college rankings can be your first step. Schools in our list score high marks in key areas like accreditation, affordability, online degree options, and student support. Learn more about each school below and see if one of them has the online education or teaching program that best fits your needs.
About the ranking
Methodology for the STEPS Best Online Programs in 2022
Generate List of Eligible Schools and Programs
To be eligible for this ranking, schools were required to meet the following criteria based on government data provided by The Integrated Postsecondary Education Data System (IPEDS).
Institutional accreditation from an organization recognized by the U.S. Department of Education.
At least one program in subject area offered partially or fully online.
Assign Impact of Data Points
After generating the list of eligible schools, the STEPS data team then assigned weights and ranked schools based on a mix of affordability, support services, and online program availability. Online program availability and overall affordability received the heaviest weightings.
Online Program Availability
Number of online programs in subject area reported by school to the U.S. Department of Education. When unable to verify this number, a star-based system was used to signify the number of programs relative to peers.
Affordability
Cost:
Relative cost of attendance compared to peer schools on the list. Based on tuition and fees per academic year.
Students w/ Institutional Aid:
Percentage of students who receive financial aid from the school itself.
Support Services
Academic Counseling:
Existence of this service on campus or online.
Career Placement:
Existence of this service on campus or online.
About Our Data
All STEPS rankings use the latest official data available from The Integrated Postsecondary Education Data System (IPEDS). Most recent data pull: July 2021
How Does an Online Degree in Education Work?
There's a reason so many online degrees in education exist: they translate easily to distance learning formats. The vast majority of topics covered in these programs can be effectively discussed and learned through live and pre-recorded lectures, online forums and chat features, innovative assignments that harness educational technology, and papers that can be sent and graded through email. Many online degrees in education can be completed fully online with the exception of any student teaching and internship requirements. These tend to mostly exist at the bachelor's level, meaning some associate, master's, and doctoral programs may not require any in-person components.
When researching a prospective education degree online, you should consider several components. If you already have a busy professional and/or personal life, asynchronous vs. synchronous delivery could make a big difference. Asynchronous programs allow you to watch pre-recorded lectures and complete assignments at times that work best with your schedule, while synchronous degrees require you to log-in at specific times. It's also worth considering whether you want a part-time, full-time, or accelerated program. Part-time usually serves working students best, while accelerated paths appeal to learners who want to gain their degree and begin working more quickly.
And don't forget about student teaching. While there may be an online component to it, you'll need to log hours in the classroom, too. Read our Student Teaching Survival Guide to learn more about your final step from degree to career.
What You Learn: Online Education & Teaching Degrees
Because online education and teaching degrees covers a wide range of topics, what you learn depends largely on your degree level and concentration. Students enrolled in a general education associate degree will take different courses than the learner working towards an EdD in curriculum development and instruction. That being said, many education and teaching programs at all levels include courses on the following topics:
Teaching in a Diverse World
Delivery
Campus or Online
This class gives you the skills needed to teach students of diverse ethnic, religious, socioeconomic, and personal backgrounds and create an inclusive and welcoming learning environment where each child feels safe and valued. You'll consider questions around learning equity, differentiated experiences, and creating positive learning outcomes.
Education Technology
Delivery
Campus or Online
In addition to considering the various types of educational technology now available to teachers, this class gives you the practical knowledge needed to effectively implement them based on student needs. You'll consider how educational technology can enhance classroom activities and assignments and participate in assignments that help you become more literate in available hardware and software.
Classroom Management
Delivery
Campus or Online
This course provides an overview of various theories and frameworks surrounding classroom management, with emphasis on behavior management, tools for student motivation, handling disruptive students effectively, the role of parents, and how to implement interventions. Many of these classes include a student teaching component to gain hands-on skills.
Education Psychology
Delivery
Campus or Online
Students in this class learn about the major frameworks and methodologies surrounding childhood development from birth through adolescence. Topics include theories in education, assessing different learning styles and ability levels, creating positive and impactful learning spaces, and developing management and discipline styles.
Educating Exceptional Learners
Delivery
Campus or Online
Designed to help learners develop skills related to special education, this course takes a look at the variety of support services available to both teachers and exceptional students. You'll learn about laws surrounding special education alongside the use of special educational technologies, accommodations, and emerging trends in exceptional learning methodologies.
Teaching Social Studies
Delivery
Campus or Online
Designed for individuals interested in teaching social studies at the elementary or secondary level, this course introduces them to common social studies curricula, standard implementation methods, common issues and trends in the classroom, and expectations around common core curriculum standards and testing.
Creating Change
Delivery
Campus or Online
After learning about some of the current issues in education, this course aims to give students the tools needed to create change. Learners consider their role as change-makers as they explore the politics and laws surrounding education. They'll also use a historical lens to better understand how the field has shifted over time.
Effectively Teaching About Race
Delivery
Campus or Online
This course gives you the tools and competencies needed to thoughtfully teach students about race from historical, scientific, and lived perspectives. You'll build skills in talking about the roles of inequality, privilege, bias, and unfair treatment as you help students better understand how they can create a more equitable experience for all.
Learn more about student and teacher diversity in the classroom.
FAQs for Earning Teaching & Education Degrees Online
Pursuing a teaching or education degree online requires a great amount of preparation prior to entering the program, alongside devotion to your studies while enrolled and a solid plan of action for finding a career after you graduate. With so many components needing to fall together to find success, you may find yourself with a number of general or specific questions about the journey from matriculation to graduation. You're not alone. We spoke to students to learn what they want to know about the process and then asked our experts to provide knowledgeable answers.
Which Education or Teaching Degrees Can I Earn Online?
Education and teaching degrees exist both partially and fully online, making it possible for you to find a program that works with your life. These degrees can be found at every level as well, meaning you can go from an associate degree to a Ph.D. with minimal visits to campus. Keep reading to learn about the variety of programs available.
Online early childhood education degrees appeal to students who want to use their teaching skills to help the youngest students take their first steps in the world of education. Most programs qualify graduates to work with Pre-K learners in both academic and child care settings. These programs exist at the associate through doctoral levels and cater to a variety of professional goals. You can expect to learn about developmental changes from birth through eight years old, educational pedagogy, and creating fun learning environments.
Elementary education programs online help students fulfill their goals of working with children enrolled in Kindergarten through middle school. These programs give you an understanding of developmentally-appropriate teaching practices, effective lesson planning tools, strategies for teaching students of differing ability levels, and an awareness of how education policy plays into educational goals and outcomes. You must seek licensure and certification to teach after completing this program.
Students who enroll in online secondary education degree programs want to work with high school students to prepare them for college and professional endeavors. Programs focused on this area of education provide you with the subject knowledge needed to teach standard and specialized topics and the skills required to work with students of diverse backgrounds and abilities. You must seek licensure and grade level certification after graduating to qualify for teaching roles.
Special education online degrees appeal to students who want to work with exceptional learners to meet their full potential. In addition to covering subject area materials, you'll also develop specialized skills in understanding various types of learning disabilities and creating lesson plans that cater to individual needs. Both public and private schools providing campus-based and distance learning programs offer these degrees. You'll need to meet licensure and certification requirements to teach with this qualification.
Pursuing a physical education degree online is a great option if you want to teach students of all grade levels how to live healthy and active lives. These programs emphasize fitness for all ability levels and teach you how to create inclusive programs based on the latest findings in the world of health and biomedical principles. You'll gain skills in curriculum development, equipment maintenance, teaching appropriate sports movements, and directing athletic programs.
Online Certificate in Education & Teaching
Certificates in education and teaching exist for undergraduate and graduate students alike, though learning outcomes tend to vary. An undergraduate certificate in education qualifies you for support roles as a teaching aide or tutor, while a graduate certificate usually focuses on building specialized skills in a particular specialty area of the discipline. The undergraduate path can be a great option if you want to get a taste for education before committing to a full degree, while the graduate certificate can help boost employability, and, possibly, salary potential.
Online Associate Degree in Education
Completing an online associate degree in education won't qualify you to work as a licensed teacher, but it still offers several tangible benefits. These programs, which usually require two years of full-time study, allow you to get a sense of what a career in education may entail before jumping fully into a bachelor's program. If you attend an accredited community college or vocational school, these credits typically transfer to a baccalaureate degree if you decide to progress your studies after graduating. Associate degrees qualify you for support roles as a teaching assistant, preschool teacher, or child care worker.
Coursework tends to introduce foundational topics such as trends in education, use of technology in teaching, subject area education fundamentals, and theories of childhood development. These degrees also include some general education courses, which, again, count towards a bachelor's degree.
Online Bachelor's Degree in Education
If hoping to work as a licensed teacher, you'll need at minimum a bachelor's degree in education. Whether you want to teach students just starting out in kindergarten or those entering high school, education programs exist to give you the subject area knowledge and educational skills needed to lead classrooms. These degrees also prepare you for jobs outside the classroom, including positions as camp directors, daycare administrators, educational program managers, and textbook authors.
Students typically pick their grade level (e.g., early education, elementary education, secondary education) to build skills in content delivery before moving into topics around classroom management techniques, instructional approaches, educational technology, classroom assessments, and working with exceptional and gifted learners. You must also participate in a semester-long student teaching experience to build classroom skills. These programs typically require four years of full-time study or two years after completing an associate degree.
Discover the essential skills for education students that will help you succeed both in the classroom while you're enrolled and leading the classroom upon your graduation.
While an online master's degree in education likely won't qualify you for a university position, it can help advance your career and earn a higher salary. If wanting to work as a school counselor, instructional coordinator, librarian, or principal, you'll need at minimum a master's degree. These programs build skills in leadership, implementation of qualitative and quantitative research, curriculum design and assessment, and providing counseling to students from diverse backgrounds.
These programs exist for individuals who want to work in the highest tiers of education as a practitioner. Degrees emphasize training in areas of program administration, leading organizational change, transformational leadership, and using cutting-edge research to inform new ways of progressing the field forward. Rather than focusing on skills-building in conducting research, these programs teach students how to implement findings in innovative ways. They usually require three years of full-time study or five years of part-time study.
Ph.D. programs in education exist for students who want to build advanced skills in areas of research, policy development and implementation, curricular assessment and evaluation, and postsecondary teaching. These degrees tend to be more theoretical in nature than EdD pathways and give you the skills needed to contribute unique research, findings, and best practices to the discipline. They also provide the skills you need to lead college-level classes that prepare the next generation of educators.
Thinking of entering the teaching profession a different way? Learn more about alternative routes to becoming a teacher.
The Online Bachelor's in Education: Admissions Requirements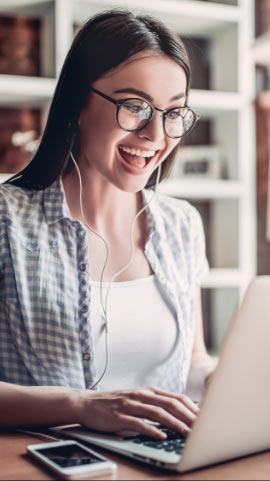 Admission requirements for online bachelor's in education programs depend entirely on the university to which you plan to apply. Some programs exist as full, four-year programs while others are designed to serve learners who already completed an associate degree and need a degree completion program. Those falling into the latter category typically set general education requirements that must be met before a letter of admission is extended.
In addition to general university admission mandates, some education departments also set degree-specific requirements, including minimum GPAs, completion of certain prerequisites, clearance of a background check (required to participate in student teaching experiences), and a passing score on the PRAXIS core examination. General admission requirements typically include official transcripts from any high school or university previously attended, two to three letters of recommendation, a statement of purpose, answers to any essay questions posed, a completed application and payment of fees, and SAT/ACT scores.

What's the Cost of an Online Bachelor's in Education?
Costs for online bachelor's in education programs vary significantly based on the type of institution you attend. Public schools offering in-state tuition tend to provide the best value for money, while private institutions usually charge significantly more. Check out the table below to get a sense of what to expect, but remember these figures do not include any additional fees.
25 Resources for Education & Teaching Students
Whether you're just starting to look for a degree program, are in the midst of completing educational requirements, or are about to begin the job search, plenty of resources exist to help make the process easier. We've rounded up 25 of the best support tools that can help provide answers, give insight, and help you feel more knowledgeable and confident about the topic at hand.