Top Online Early Childhood Education (ECE) Degrees in 2023
Gain the credentials needed to set young students on the path to success.
Last Updated: 04/27/2023
Sponsored
publicservicedegrees.org is supported in part by advertisements. Featured programs and school matching are for institutions that compensate us. This compensation will never influence our school rankings, in-depth guidebooks, or any other information or resources published on this site.
2023's Best Online Schools for Early Childhood Education Degrees
With so many online early childhood education degrees now available, it can be overwhelming to find a program that meets your needs at an affordable price. However, there are resources available to help you make an informed decision. The following college rankings list features schools with the best online ECE degrees for the current year. Each school is properly accredited, has reasonable tuition rates, and offers strong student support services for its online students. This list can help you identify which schools stand out in 2023.
About the ranking
Methodology for the STEPS Best Online Programs in 2022
Generate List of Eligible Schools and Programs
To be eligible for this ranking, schools were required to meet the following criteria based on government data provided by The Integrated Postsecondary Education Data System (IPEDS).
Institutional accreditation from an organization recognized by the U.S. Department of Education.
At least one program in subject area offered partially or fully online.
Assign Impact of Data Points
After generating the list of eligible schools, the STEPS data team then assigned weights and ranked schools based on a mix of affordability, support services, and online program availability. Online program availability and overall affordability received the heaviest weightings.
Online Program Availability
Number of online programs in subject area reported by school to the U.S. Department of Education. When unable to verify this number, a star-based system was used to signify the number of programs relative to peers.
Affordability
Cost:
Relative cost of attendance compared to peer schools on the list. Based on tuition and fees per academic year.
Students w/ Institutional Aid:
Percentage of students who receive financial aid from the school itself.
Support Services
Academic Counseling:
Existence of this service on campus or online.
Career Placement:
Existence of this service on campus or online.
About Our Data
All STEPS rankings use the latest official data available from The Integrated Postsecondary Education Data System (IPEDS). Most recent data pull: July 2021
Inside the Online Degree in Early Childhood Education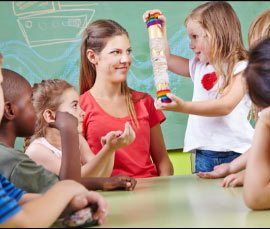 Early childhood education online degrees can prepare graduates to help little learners explore the world and begin to understand basic academic concepts – all the while having fun. Many topics taught in these programs are conducive to online learning, meaning lots of programs exist in either fully- or partially-online formats. If considering a program focused more on teaching aspects, you may find that these require a few visits to campus. We'll review the various types of early childhood education programs online in the following sections.
Online Certificates in Early Childhood Education
Certificates in early childhood education exist for both entry-level and advanced positions. Students who pursue these prior to a degree typically qualify for support roles, including positions as childcare workers, teaching assistants, personal care aides, and tutors. Those who pursue them at the graduate level usually want to expand their knowledge in a particular area, such as teaching and diversity, special education, curriculum development, or school administration. These programs usually take less time than a full degree and cost less.
Early Childhood Education Associates Degree Online
Completing an online associate degree in early childhood education can be a great first step toward entering the field and allows you to test the waters before committing to a four-year program. Many schools also offer the opportunity to transfer credits gained in these programs into a bachelor's degree if you decide to pursue further education. Some of the skills and knowledge gained in these programs include:
Understanding of current educational trends and issues.
Ability to use theories of childhood development to understand behaviors and learning abilities.
Development of skills related to lesson planning, classroom management, and discipline procedures.
Early Childhood Education Bachelor's Degree Online
Completing a bachelor's degree in early childhood education allows you to seek licensure and work in a variety of teaching and administrative positions. These programs usually require four years of full-time study and the completion of 120-128 credits. Skills and competencies gained include:
Understanding of cognitive, linguistic, physical, and social-emotional development.
Competency in using assessment methods, observational skills, and documentation to manage appropriate learning procedures.
Ability to create age- and developmentally-appropriate teaching and learning materials that meet the needs of many different types of students.
Development of skills related to classroom inclusion, diversity awareness, and pedagogy around equity.
Early Childhood Education Master's Degree Online
While not required for working in a primary school classroom, online master's degrees in early childhood education can give you the skills and credentials needed to take on high-level administrative positions or those focused on curricular development and assessment. Competencies gained in these programs include:
Implementation of evidence-based theories and methodologies to create more effective early education programs.
Ability to evaluate existing curricula and teaching methods to elicit better learning outcomes.
Understanding of evaluation and assessment methods for teachers, administrators, and curricular plans.
Development of leadership skills to help schools and child care centers and their staff grow and evolve alongside emerging best practices.
Early Childhood Education PhD Online
Online Ph.D. programs in early childhood education are designed for learners who want to pursue careers in research, policy development, leadership, or college faculty positions that require advanced knowledge in the field. These programs often require previous professional experience that can be built upon during coursework. Skills gained include:
Awareness of existing early childhood education policy and the conversations around how to move the field forward.
Ability to use cutting-edge research techniques to explore new best practices around teaching and learning, developmental stages, and serving diverse learners.
Understanding of how to translate coursework to college-level students who want to become practitioners in their own right
Online ECE Degree Concentrations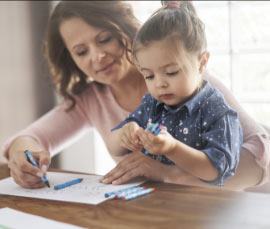 Given the broad nature of early childhood education, many colleges and universities offer specializations to help you build expertise in a particular area of the discipline. While some students may decide to focus on building their knowledge in subject areas, many focus on topics such as childcare, child development, and child psychology. A few schools may offer specializations at the bachelor's level, but they are more common in master's level programs. Review those listed below, but be sure to conduct additional research to find a specialization that meets your professional needs.
Child Development
Students in these classes learn about the theories surrounding human growth and development, with special emphasis on cognitive, emotional, mental, and physical development from birth through adolescence. Learners review case studies to see how developmental shifts play out in myriad ways.
Early Childhood Policy
This course introduces students to school, state, and federal policies and laws surrounding early childhood education. Students review those enacted into law before learning about current trends in policy development and how research can best inform new ways of accomplishing learning goals.
Special Education
With a focus on how to best serve exceptional learners, this course gives students the knowledge they need to meet children where they are and create developmentally appropriate materials. They also consider ways of creating inclusive classrooms for learners of all abilities.
School Psychology
This course dives into some of the theories and frameworks surrounding school psychology, with emphasis on how different teaching, evaluation, and classroom management techniques affect learning outcomes. Students also consider current methodologies surrounding child psychology.
Teaching/Instruction
Learners enrolled in this class get a crash course in how to effectively structure their classrooms, lesson plans, and teaching strategies to best serve students. They look at case studies on various types of teaching and instruction and complete projects that help them hone their skills in both areas.
FAQs for Earning Your Early Childhood Education Degree Online
After reviewing the degree information provided throughout this guide, you may have a better sense of what to expect from online degree programs in education and teaching, but you may still have questions. To help address common questions, we have collected the most frequently asked questions by prospective students and worked with experts in the field to provide answers. Review these below to see if your question is on the list and find information about educational requirements and career prospects.
What do you learn in an online ECE program?
Online early childhood education programs give students the skills and tools needed to effectively plan for and lead classes for young children. Degree seekers cover materials related to classroom management, lesson planning, developmental stages, catering to exceptional and gifted learners, and creating safe and positive environments. If you want to learn more, check out our Inside the Degree section earlier in this guide.
How long does an online ECE program take to complete?
Program length varies based on the type of degree you're working towards. Bachelor's degrees require four years of full-time study or six years of part-time study, while master's programs can take anywhere from one to four years, depending on course requirements and whether you enroll on a full- or part-time basis. Doctorates in early childhood education, on average, require three to five years of study and completion of a dissertation.
Can you get an ECE degree fully online?
Degree availability online depends largely on the school at hand and any state-level requirements for graduation. While any program that mandates a student teaching assistantship or internship naturally requires learners to complete their hours at an approved site, the vast majority of coursework can be undertaken without visiting campus. If finding a fully online program is important to you, talk with program administrators before enrolling.
What grades can you teach with an ECE degree?
According to the National Association for the Education of Young Children (NAEYC), the term "early childhood education" encompasses children from birth through the age of eight. Given this definition, students who pursue a degree in this area can teach preschool through third grade. That being said, individual states set licensure requirements so you should check with your state board to see if its definition differs from that given by NAEYC.
How much do early childhood education teachers make?
Salaries earned by early childhood education teachers vary based on factors such as job title, level of degree attained, amount of experience, and job location. The Bureau of Labor Statistics provides 2018 median pay to give you an idea of what to expect. Preschool teachers earned median salaries of $29,780 while those employed as preschool and childcare center directors brought home annual wages of $47,940. If your state allows you to work as a kindergarten teacher, these salaries average $57,980 each year.
Is this the same as an online elementary education degree?
Simply put, no. While both degrees give you the credentials needed to teach children, elementary education degree programs prepare students to educate learners aged five through 11, or kindergarten through fifth or sixth grade. Elementary education online degrees emphasize different coursework, including knowledge of developmental stages and appropriate curriculum. If working with slightly older children is more aligned to your goals, you may want to pursue this type of degree rather than early childhood education.
Will my degree program get me certified? What about a license?
Certification and licensure requirements depend entirely on the state in which you hope to teach and whether you work in a public or private school. All public schools mandate licensure and certification for teachers, while private schools have more leeway in requirements. Even if you want to work in a childcare center, many states require centers to maintain licensure and staff to possess certain certifications. It's best to contact your state board of education or licensing to learn about requirements and ensure your school meets mandates.
How much does an online ECE degree cost?
Cost depends entirely on the school you choose to attend. Enrolling at a state college as a resident student tends to offer the most cost-effective option, while private schools typically cost the most. Some public schools allow online students to pay in-state rates, but you should check with the program administrator to learn more. At Ashford University, for instance, tuition costs $485 per credit, or $58,200 for a full degree. This amount does not include any additional fees or book costs.