Online Elementary Education Degree Programs
See top schools, look inside programs, and get the info you need to enroll and pay for your online degree in elementary ed.
Last Updated: 05/11/2022
2022's Best Online Elementary Education Degree Programs
An elementary education degree prepares graduates to move into a K-6 educational setting. Elementary school teachers help their students learn and grow throughout the important formative years. But getting that far means choosing a degree program that offers a mix of quality, affordability, and convenience. To help you find the right one, we've created a list of the top accredited schools for online elementary education degrees. Learn more about this year's top schools below.
About the ranking
Methodology for the STEPS Best Online Programs in 2022
Generate List of Eligible Schools and Programs
To be eligible for this ranking, schools were required to meet the following criteria based on government data provided by The Integrated Postsecondary Education Data System (IPEDS).
Institutional accreditation from an organization recognized by the U.S. Department of Education.
At least one program in subject area offered partially or fully online.
Assign Impact of Data Points
After generating the list of eligible schools, the STEPS data team then assigned weights and ranked schools based on a mix of affordability, support services, and online program availability. Online program availability and overall affordability received the heaviest weightings.
Online Program Availability
Number of online programs in subject area reported by school to the U.S. Department of Education. When unable to verify this number, a star-based system was used to signify the number of programs relative to peers.
Affordability
Cost:
Relative cost of attendance compared to peer schools on the list. Based on tuition and fees per academic year.
Students w/ Institutional Aid:
Percentage of students who receive financial aid from the school itself.
Support Services
Academic Counseling:
Existence of this service on campus or online.
Career Placement:
Existence of this service on campus or online.
About Our Data
All STEPS rankings use the latest official data available from The Integrated Postsecondary Education Data System (IPEDS). Most recent data pull: July 2021
A Detailed Look at Online Elementary Education Degrees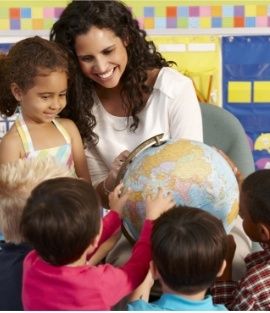 Earning a degree in elementary education used to mean visiting a campus for all your coursework. With the growth of online learning and its continued integration into mainstream higher education, you can now take a majority of your courses either partially or fully online. Fully online courses tend to be those of an academic nature, where there's no need for face-to-face interaction with students. Partially online courses may combine online elements with in-person training to ensure you know how to work with students and peers effectively. Let's take a closer look at the types and levels of elementary education degree programs online and what you'll face in each.
Online Certificates in Elementary Education
There are numerous certificates for those interested in elementary education; there are also two main levels available. The entry-level certificate requires students to take up to one year of education where they learn foundational concepts for working with and educating children in grades K-6. The graduate certificates are available to those who have already completed their bachelor's degree and need certification or further training in one particular area. In the case of entry-level certificates, you won't be able to achieve licensure; those who opt for graduate certificates are likely already licensed or well on their way to becoming so. Most certificates can be completed entirely online.
Online Associate Degrees in Elementary Education
Those who choose to earn an associate degree will not be eligible to obtain licensure to teach; however, this degree can help graduates find rewarding support roles in a school system, such as teaching aide, childcare specialist, or educational assistant. In many cases, this associate degree program can be completed entirely online, but some schools do require a hands-on component. Keep in mind that the associate degree can also serve as an excellent stepping stone to the bachelor's degree later on.
Skills learned at this level:
Maintaining the health and safety of children
Providing balanced nutrition for children
Basics of child psychology
Teaching techniques
Online Bachelor's Degrees in Elementary Education
The bachelor's degree is the standard level of education needed to become licensed or certified to teach in any state. The bachelor's degree takes four years of full-time study to complete. Though much of the coursework can be delivered online, students need to complete the hands-on teaching practicum in order to graduate. The core skills learned at this level prepare graduates to move into the classroom and begin honing their skills. Here's a quick list of top skills you learn:
Lesson planning
Classroom management
Understanding educational trends
Using technology in the classroom
Hands-on teaching experience
Online Master's Degrees in Elementary Education
Though the master's degree is often an expectation for those in administrative work, some schools are now requiring that new hires either hold their master's degree in education or agree to obtain one within a certain period of time, such as five years. The master's degree builds on the practical lessons learned in the bachelor's degree pursuit, focusing more on theory, research, and evidence-based practice that helps graduates think critically about the issues facing children in all grades today. Many of these programs are entirely online. Core skills learned at this level include:
Curriculum development
In-depth communication skills
Problem-solving tactics
Leadership techniques
Online Doctorates in Elementary Education
The most common degrees at this level are the EdD and the PhD. The EdD tends to focus more on administration and classroom application, while the PhD delves into research and academia. A terminal degree is often required for those who want to advance to the highest positions in education, such as that of superintendent over a school district or region. At this point, all coursework can be taken online, although those who choose to complete a dissertation track might have to show up in-person to defend their work before a committee. Skills learned at this level include:
Advanced leadership skills
Understanding of human resources
Research methods
Financing and budgeting for schools
Online Elementary Education Degree Concentrations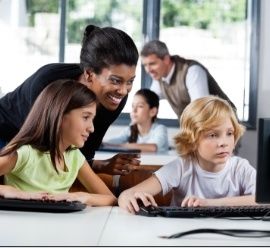 If you have a particular area of interest when it comes to elementary education, a degree specialization (or concentration) is the best way to do it. Specializations help an educator grow their career in a certain area, preparing them to dive deeper into the subject matter. When working with K-6 students, specializations have a more targeted focus on creating and teaching lessons, developing language skills, and best practices for leadership of students and colleagues. Here are a few of the options available.
Curriculum & Instruction
This specialization focuses strongly on creating curriculums for a variety of schools, classrooms and even individual students, such as those with special needs.
Educational Leadership
Those who want to take the lead in the next generation of educators can turn to this concentration, which helps students understand the best techniques and tools for effective leadership within a school, district, region, or state.
Gifted & Talented
Some students have unique gifts that must be fostered outside of the traditional classroom curriculum. Gifted and talented students need a teacher who understands their unique needs and can create instruction plans that challenge them.
Reading
One of the cornerstones of solid instruction, reading is vital to every aspect of academic success. This concentration focuses on helping children understand the value of reading, techniques to make reading easier, and help in becoming a reading coach for those who need a little extra push.
Special Education
This concentration helps guide aspiring teachers in the best ways to teach students who have mental, emotional, learning or physical disabilities or challenges. Graduates will finish the program with a comprehensive list of skills by which to help the children who need it most.
STEM
This concentration focuses on teaching of science, technology, engineering, and mathematics in the classroom (note that some might be called "STEAM" for the addition of the arts in the curriculum). This focuses on helping graduates understand how the disciplines fit together.
Supporting Language Learners
For those learning English as a second language, or those who are learning a different language from their native tongue, this concentration helps ensure teachers have the proper tools to help those students thrive in a traditional classroom setting.
Technology in the Classroom
As tech becomes more common in the classroom, this concentration embraces the movement by teaching students how to incorporate multimedia in instruction design.
FAQs for Elementary Education Degrees Online
When you're thinking about pursuing a degree in elementary education online, it's important to understand exactly what you're getting into. To help, we've compiled a list of the most frequently asked questions among those interested in elementary education work.
How fast can I earn an online elementary education degree?
The biggest factor in the time to earn an online elementary education degree is the degree level you choose. For instance, an associate degree typically takes two years of full-time study, while a bachelor's degree can takes twice that. Some certificate programs are one year, while the master's degree can take anywhere from one to three years after the bachelor's, depending upon the program and the school.
It also depends on whether you choose part-time or full-time. In that case, an associate degree could take up to four years instead of two, and the bachelor's degree could take a few years beyond the typical four. To make matters even more interesting, consider that some programs – especially those at the master's level – offer the accelerated option, during which you dive into schoolwork with the purpose of overloading a class schedule and finishing early.
Does an online elementary education degree program lead to certification?
Some states deem "certification" to mean a graduate has attained all the necessary elements to become a teacher, such as earning a bachelor's degree and completing supervised classroom work. Other states use "certification" and "licensure" interchangeably. The bottom line is that certification or licensure is only possible with completion of a bachelor's degree or higher. Therefore, an associate degree program will not lead to certification. When choosing a program online, make sure your program helps prepare you to earn a teaching license in your state; this fact may vary from one college to another, so double-checking before enrollment will save a lot of frustration down the road.
If I'm certified, do I need a teaching license?
Each state sets its own rules for licensure or certification. As mentioned earlier, sometimes licensure and certification are interchangeable. In some states, those who earn certification are allowed to teach students on a limited basis; this provisional teaching certificate lets them begin work while completing the requirements to earn their license. Each state varies, but the general rule of thumb is that certification is the first step – or an additional step – to the gold standard of obtaining professional licensure.
What grades do you teach with a degree in elementary education?
The grade level you might teach in elementary school depends upon a few things, such as your degree level and whether you're working full-time or part-time. But a general rule of thumb is that elementary schools are designed for students in Kindergarten through 6th grade. Those who work full-time might find themselves teaching students in any of those grades; those who work part-time might "float" from one classroom to another to help out the full-time teachers. And beyond that, those who hold an associate or certificate might work as teacher aides or other support personnel, and thus be assigned to a variety of different grade levels each day.
What salary do elementary school teachers make?
The salary elementary school teachers can expect depends on a variety of factors, such as the degree level they hold, whether they work full-time or part-time, and even the particular area of the country in which they work. With those caveats in mind, the chart below provides an idea of what elementary school teachers might make, from the lowest income to the highest in the profession.
| Occupation | Lowest 10% | Median Wage | Upper 10% |
| --- | --- | --- | --- |
| Elementary School Teacher | $37,780 | $58,230 | $95,270 |
| Kindergarten Teacher | $34,840 | $54,230 | $83,920 |
What's the cost of an online degree in elementary education?
As with any other higher education program, figuring out the cost of tuition can help you plan for handling the financial bottom line. Each school will vary based on numerous internal factors, so it's very difficult to provide a ballpark figure on tuition cost. However, the following chart will give you an idea of the different options out there and how they might affect your finances.
Bachelor's degree:
| School | Cost per credit hour | Credit hours required | Total Cost |
| --- | --- | --- | --- |
| Western Governor's University | $3,520 flat rate for one 6-month term | 6 terms | $21,120 |
| Walden University | $325 per credit for classroom, $200 per credit for field experience | 181 quarter credits | $53,200 |
| Liberty University | $390 per credit hour | 120 credit hours | $46,800 |
Master's degree:
| School | Cost per credit hour | Credit hours required | Total Cost |
| --- | --- | --- | --- |
| Liberty University | $415 | 36 credit hours | $14,940 |
| University of Alabama | $420 | 36 credit hours | $15,120 |
| Grand Canyon University | $545 | 47 credits | $25,615 |