Online Special Education Degree Programs
Find the top online degrees that prepare you for a rewarding career in special education.
Last Updated: 05/11/2022
Sponsored
publicservicedegrees.org is supported in part by advertisements. Featured programs and school matching are for institutions that compensate us. This compensation will never influence our school rankings, in-depth guidebooks, or any other information or resources published on this site.
Top Online Special Education Degrees for 2022
Are you ready for a meaningful career where you make a difference in children's and teen's lives? Special education teachers address serious learning challenges that can impede a student's ability to make progress both in and out of the classroom.
Our college ranking below showcases the best schools offering online special education degrees that can provide the training you need through convenient remote coursework. We scored programs based on important factors like affordable tuition rates, robust student support services, proper accreditation, and flexible course scheduling. Learn more about our top picks for 2022 and see which program fits your needs best.
About the ranking
Methodology for the STEPS Best Online Programs in 2022
Generate List of Eligible Schools and Programs
To be eligible for this ranking, schools were required to meet the following criteria based on government data provided by The Integrated Postsecondary Education Data System (IPEDS).
Institutional accreditation from an organization recognized by the U.S. Department of Education.
At least one program in subject area offered partially or fully online.
Assign Impact of Data Points
After generating the list of eligible schools, the STEPS data team then assigned weights and ranked schools based on a mix of affordability, support services, and online program availability. Online program availability and overall affordability received the heaviest weightings.
Online Program Availability
Number of online programs in subject area reported by school to the U.S. Department of Education. When unable to verify this number, a star-based system was used to signify the number of programs relative to peers.
Affordability
Cost:
Relative cost of attendance compared to peer schools on the list. Based on tuition and fees per academic year.
Students w/ Institutional Aid:
Percentage of students who receive financial aid from the school itself.
Support Services
Academic Counseling:
Existence of this service on campus or online.
Career Placement:
Existence of this service on campus or online.
About Our Data
All STEPS rankings use the latest official data available from The Integrated Postsecondary Education Data System (IPEDS). Most recent data pull: July 2021
Understanding Online Special Education Degrees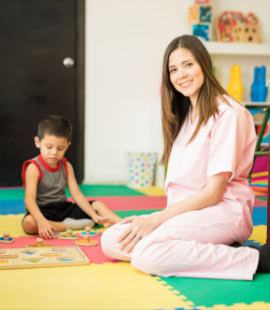 Online degree programs in special education offer scheduling flexibility for the working student. Full-time online students can complete their degrees and certificates more quickly than their campus-based counterparts. Online courses can include the use of streaming lectures, email, chat, telephone, bulletin boards, and multi-media communications. At the same time, many programs require students to complete internships in the classroom or at district offices. Often internships are arranged in locations convenient to online students, at schools or where they currently work in the classroom. Let's examine the types of online special education degrees and the skills you'll develop for the classroom. We'll also include information on credentialing and state licensing.
Online Certificates in Special Education
There are two types of online certificates in special education: entry-level certificates and graduate certificates. Entry-level certifications can be a cost-effective way to accelerate your entry into the profession. Depending on the online program, these certificates can be completed a year. In addition to online coursework, students are usually required to complete an on-site supervised internship. Graduate certifications are appropriate for special education teachers who want to add an area of expertise to their credentials or to advance in their profession. These certificates typically require an 18-21 credit course of study. Didactic classes can be completed entirely online.
Online Associate Degrees in Special Education
Online associate degree programs in special education provide the first step on the pathway to certification and licensure. These 60-hour programs offer students an opportunity to learn about the field and to determine whether the career really interests them. Students also save time and money as they complete their general education requirements for transfer to bachelor degree programs. Associate graduates are prepared to take jobs as teacher assistants. You may be able to continue your service as an assistant while moving on to a flexible, online bachelor degree program. Core skills learned in an Associate Degree in Special Education program include:
Teaching skills to work with special education students, the faculty, and parents.
The basic understanding of developmental disorders, behavioral disorders, learning disabilities, emotional disorders, and physical limitations.
Familiarity with classroom management techniques and the special education curriculum.
Online Bachelor Degrees in Special Education
The next step forward is to complete a bachelor degree to become certified and licensed. Students must take 120 units to earn a Bachelor Degree in Special Education. Half of the credits are comprised of general education coursework, which can be completed at and transferred from a community college. Online bachelor degrees are offered as hybrid programs combining wholly online classes with on-site classroom experiences. The curriculum may include courses in psychology (behavior management), cultural studies, research-based student assessment, interventions, literacy, child development, assistive technology, and the creation of Individualized Education Programs (IEP). The degree program builds essential core skills including:
A fundamental understanding and application of assessment procedures
The ability to create and measure the effectiveness of IEP programs
The methodology to measure assistive technology as it applies across the range of disorders and disabilities
Online Master's Degrees in Special Education
There are two types of Master's Degree in Special Education programs to choose from. You can earn a M.Ed. to take on advanced roles in special education teaching and leadership, or an M.S. degree for students interested in conducting research in the field. Both degrees can be completed entirely online or as a hybrid program with on-site classroom components. Typically, you'll need to complete approximately 45 credits, including a field experience. Coursework can focus on advanced studies in educational psychology, behavioral and classroom management, assisted technology applications in diagnosis and instruction, special education law, the impact on family members, and graduate research theory and techniques. Expect to develop some of these core skills:
Expertise in curriculum design and assessment.
Personalized teaching strategies and emotional support of children with high-incident disabilities.
Techniques for building collaborative programs with the school, the district, with student families and the greater community.
Online Doctorates in Special Education
Doctorates in special education represent the pinnacle of academic achievement in the field. There are doctorates for professionals who want to undertake research at the university level (PhD) and for individuals planning to advance into leadership or senior roles in education policy, instructional leadership, or deepen their knowledge and qualifications in an area of specialization (EdD). Doctoral degree programs take up to six years, depending on the university. Credit hours range from 40 to a total of 70. Accelerated or self-paced online degrees can be completed in as little as three years. You may be required to complete and defend a dissertation focused on your independent research. To apply to these programs, students must have a minimum of two years' experience in the field and hold a master's degree. Depending on the type of doctorate (PhD, EdD), you can expect to demonstrate these core skills:
Education leadership and staff mentoring at the school or district level.
Conducting evidence-based, scholarly research for advancing the profession.
Overseeing the creation of policies and to address budgeting issues, including grant writing.
Concentrations in Online Special Education Degrees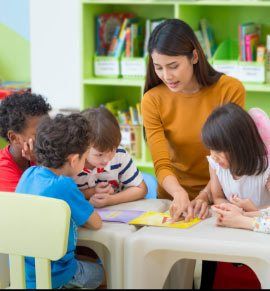 Special education teachers seeking advancement can return to an online university to earn a graduate degree. One of the best ways to prepare for career progression is to complete a specialization as part of your master's degree. Concentrations build upon your knowledge and experience, and you'll gain advanced expertise in a niche serving one or more student populations. The targeted subject matter is focused and intensive. Graduate students can choose a specialization that targets their educator goals or to prepare for education careers on the rise within a school district. Let's review some of today's top concentrations in special education:
Assistive Technologies
Assistive technology has been developed to augment the special educator's toolkit. For example, assistive technologies may address the use of walkers or new-generation wheelchairs. In addition, assistive computer hardware and software focuses on ease of access and the integration of learning skills such as reading comprehension. The goal is to facilitate physical mobility and enhance learning through multimedia.
Autism Spectrum Disorders
According to the National Institute of Mental Health, autism spectrum disorder (ASD) is typified by lack of attention, difficulty communicating with others, hyperactivity, and an attachment to routine. It can be diagnosed as early as age two. The special education teacher addressing ASD can establish routines, integrate social activities, and keep concepts simple and clear.
Behavior Analysis
Graduate students can specialize in behavior analysis to understand and address students who respond negatively to interactions or disrupt classes. Behavior analysis may be used effectively with students demonstrating ASD. Special educator skills include performing interventions to stop reactions as they occur. Or you may employ tactics to demonstrate "replacement behaviors" that offer students positive behavioral choices.
Deaf Education
Students who are hard of hearing often have difficulty completing classroom assignments or understanding teachers' directions. They are typically challenged in oral communications. Teachers can employ a number of tools to address this complicated issue. They can assign a sign language interpreter to the class or facilitate visual learning through assistive technology (such as text-to-audio software to deliver oral reports and assignments).
English Interpreting
School interpreters help deaf or hearing-impaired students, as well as their parents who may also have hearing disabilities. In this specialization, you'll need complete a bachelor's degree along with formal coursework in interpreting. Some interpreters are fluent in two or three languages. Continuing education can further develop your skills and qualify you for senior positions. A Master's Degree in Interpretation combines practical experience, teaching/interpreting strategies, and communications theory.
High-incidence Disabilities
Students requiring assistance with high-incidence disabilities may exhibit emotional and cognitive disorders and learning disorders. Some of these include LD, ADHD, and autism spectrum disorders. You'll need a master's degree concentrating on studies in student assessments, research methodologies, and individual planning for each student. Typical coursework in this specialization includes task-setting, building effective listening skills, and the establishment of structured social interactions.
Multisensory Reading Instruction
Research has found that students may learn more effectively when your teaching appeals to a range of senses, incorporating sound, touch, movement, and sight. Graduate studies in this specialization often include training in The Wilson Reading System (WRS) to address reading issues. The WRS Level 1 Certification is an in-demand specialty.
Special Education Law
Prevent discrimination against your students. State and Federal laws protect the rights of children with disabilities and learning disorders. In this specialization, graduate students learn the application of the Individuals with Disabilities Education Act (IDEA) and its provisions for student evaluations and interventions. They also study Section 504 of the Rehabilitations Act requiring equal access to all students needing disability assistance.
Special Education Leadership
Are you a licensed teacher aspiring to lead special education at your school or district level? Your classroom experience as a special educator has prepared you to evaluate and augment special education programs. The specialized curriculum in an online Master's Degree in Special Education Leadership includes coursework in law, finance, instructional/managerial strategies, and assistive technology. Programs culminate in special education practicums and seminars.
Online Special Education Degree FAQs
If you're thinking about becoming a special education teacher, you'll have questions whether an online program will meet your needs. For starters, you'll want to know how long it takes to complete a degree and how much money it will cost. Do you need certifications and licenses to work in your state, and how much can you earn? To assist you, we've collected the most popular questions asked by potential students and contacted special education experts in the field to answer them.
How long does it take to earn a special education degree online?
Online special education degrees at the undergraduate and graduate levels vary depending on whether you pursue them on a full-time or part-time basis. Some accelerated of self-paced courses can cut the time to graduation. Fulltime, online bachelor degrees take less time to compete if you already hold an associate degree. Here are national averages of times for completion for fulltime students:
Associate degree: two years
Bachelor degree: 5.1 years, 2.5 years with a two-year associate transfer
Master's degree: 1.5 to 2 years
PhD: 5 years if you have completed a master's degree
Do I need to become certified to teach special education?
Special education teachers are required to hold more than one certification to perform their duties. At minimum, you will need to complete a bachelor degree to obtain a general K-6 certification. Some online programs offer dual certification programs that lead to elementary education and K-6 special education credentials. All states offer alternative routes to certification for applicants who have competed a bachelor's degree in the subject they hope to teach. You'll also need to obtain a state-issued certification in special education. The American Academy of Special Education Professionals (AASEP) offers the national test for certification. Moreover, you can get certified in your specialization(s). Bachelor and master's students are encouraged to contact state departments of education to learn about specific certification requirements.
What's the difference between certification and licensure for special education?
While you'll need certifications and licenses to work in special education, there are key differences between each. Certifications verify that the applicant has completed their formal, accredited education. Independent national organizations and associations such as the AASEP offer certification exams. Usually certification requirements include formal education, documented work experience, and an examination of knowledge, skills, and abilities needed to work in the profession. Your classroom experience also factors in the approval process. On the other hand, special education licenses are awarded by school districts and state departments of education. Each state has its own licensing requirements. You may apply for a general license or, if the state requires them, licenses to work in your specialization.
How much do special education teachers make?
Your pay rate may vary dramatically based on your level of education, your relevant certifications and experience. For example, if you earn an associate's degree, you might work in your community as a teacher assistant. The U.S. Bureau of Labor Statistics (BLS) reports a median annual wage of $26,970 for assistants. If you work as a special education teacher with a bachelor's degree, the median annual wage is $59,780. By completing a master's degree, you may advance to jobs as school counselors, administrators, instructional coordinators, and K-5 principals. The median annual wage for instructional coordinators is $64,450.
How much does an online special education degree cost?
That depends on the degree you're seeking and whether you attend a public or private school. A 60-unit online associates degree can be completed in two years. The national average for two-year tuition is approximately $6,880. A 120-credit Bachelor's Degree in Special Education takes four years to complete, or half as long if you transfer an associate's degree. The average tuition at a public college for in-state students is $18,820. At the master's degree level with full-time study, you can complete the 32-credit curriculum in two years. Costs vary by institution. For example only, the Penn State World Campus master's program costs $28, 352. You can complete an online PhD or EdD in Special Education in 2-4 years. In another example, the full tuition for Regent University's 66-hour online Doctor of Education in Special Education is $51,150.