Online Master's Degree Programs in Education
Review top master's degrees in education and see what it takes to apply to, pay for, and graduate from your program.
Last Updated: 05/11/2022
2022's Best Online Master's Degrees in Education
With the growing availability of online degree programs, it's never been more convenient to advance your knowledge and career as an educator. An online master's in education can help you meet state teaching certification requirements even if your undergrad is in a different field. For current educators, a master's helps you hone your skills, pursue specializations, and become a more competitive candidate in today's job market. But how do you know which programs are best? To help get you started on your search, we've identified this year's best online master's degrees in education based on important criteria like affordability, strength of student support, and program flexibility. Learn more about each school below and find the online master's in education that's right for you in 2022.
About the ranking
Methodology for the STEPS Best Online Programs in 2022
Generate List of Eligible Schools and Programs
To be eligible for this ranking, schools were required to meet the following criteria based on government data provided by The Integrated Postsecondary Education Data System (IPEDS).
Institutional accreditation from an organization recognized by the U.S. Department of Education.
At least one program in subject area offered partially or fully online.
Assign Impact of Data Points
After generating the list of eligible schools, the STEPS data team then assigned weights and ranked schools based on a mix of affordability, support services, and online program availability. Online program availability and overall affordability received the heaviest weightings.
Online Program Availability
Number of online programs in subject area reported by school to the U.S. Department of Education. When unable to verify this number, a star-based system was used to signify the number of programs relative to peers.
Affordability
Cost:
Relative cost of attendance compared to peer schools on the list. Based on tuition and fees per academic year.
Students w/ Institutional Aid:
Percentage of students who receive financial aid from the school itself.
Support Services
Academic Counseling:
Existence of this service on campus or online.
Career Placement:
Existence of this service on campus or online.
About Our Data
All STEPS rankings use the latest official data available from The Integrated Postsecondary Education Data System (IPEDS). Most recent data pull: July 2021
Inside Education's Online Master's Degree
Graduate students in education programs today enjoy the convenience and flexibility of online learning. Remote students often handle various life responsibilities, including family obligations and careers, while completing their graduate education. Many colleges and universities offer online master's of education programs with specializations for concentration areas that are conducive to distance learning, as well. You can complete majority of requirements for these degrees remotely, with any necessary hands-on training or teaching components completed in-person or partially online. In the sections that follow, we will take a closer look at the types of education master's programs online and what you will encounter in each scenario.
Online Master's in Education vs. Online Master's in Teaching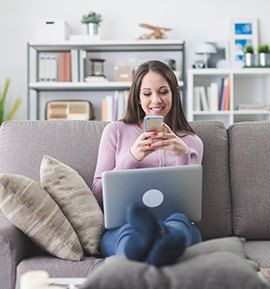 The master's in education and master's in teaching are often referred to interchangeably. This is not necessarily accurate and is a disservice to each discipline. The major difference between the two is that master's of education programs typically serve students interested in careers in education administration and curriculum design. Students in teaching graduate programs are usually looking to build upon an established teaching skill set to advance their careers inside the classroom. A master's program in teaching helps you gain practical experience and official credentials, usually in a specialized area or age group.
In many cases, both the master's in education and master's in teaching are available entirely online, some of which require an occasional in-person component depending on the program. Each program also takes about two years to complete. When deciding which program is the best fit for you, the most important point to consider is what you intend to do upon graduation. If you wish to expand upon your teaching career and see yourself working directly with students, perhaps a master of arts in teaching is an excellent choice. Alternatively, if you are interested in administrative positions, curriculum design, education policies, and other education-focused roles outside of the classroom, a master's in education will serve you best.
Core Competencies of the Education Master's
When you pursue a master's in education, you develop a set of core competencies that help you carry out essential functions in a myriad of administrative and leadership roles in the field. Accredited online master's of education programs typically build their curricula around standards determined by the National Council for Accreditation of Teacher Education (NCATE) and the National Board for Professional Teaching Standards (NBPTS). Here are five competency areas in which you will develop mastery in a graduate education program.
Communication Skills
Working in an administrative or leadership role requires you to interact with a variety of individuals, including young students, colleagues, administrators, and parents. You will need to develop effective communication skills to carry out essential tasks on a daily basis. You will also be required to use the latest technology available to educators for those educational and administrative tasks.
Create a Strong Educational Environment
You must develop the skills that allow you to create safe environments that are conducive to learning. This includes staying up-to-date on the latest educational research and understanding local, state, and federal regulations for educational institutions. Your master's program will help you explore the political, economic, legal, and social components of the education system.
Understanding Teaching Methods
Whether or not you work in the classroom or an administrative role, you will need to understand a wide variety of effective teaching methods and the technologies on which they rely. Today's teaching methods are highly dependent on technology and you need a fairly in-depth understanding of instructional design, student cognition, online literacy, and educational product design.
Working with a Diverse Student Body
To be an effective leader or teacher in today's educational system requires you to be a sensitive professional who is comfortable working with students from diverse backgrounds. It is important to recognize racism and ethnocentrism in educational institutions and battle these elements to create a safe and culturally sensitive environment for all students, employees, and administrators.
Problem Solving
A major part of working as a teacher or administrator in education is solving problems and getting creative with limited resources. In a graduate program, you will develop the necessary tools to handle budgetary, personnel, and logistical issues that professionals commonly face in educational institutions today.
Specializing Your Online Master's in Education
One major benefit of pursuing a master's degree is that you can develop an area of specialization. It is important to select a focus that aligns with your career goals, whether you wish to work with a certain age group of students, pursue a particular subject, or concentrate on a specific skill. The section that follows elaborates on popular specialized education degrees, from special education and education administration to concentrations in English and mathematics.
Online Master's Degree in Early Childhood Education (ECE)
The master's degree in early childhood education prepares you for careers as an education consultant, family support worker, preschool lead teacher, early childhood services director, adjunct professor, and more. In these programs, you develop specialized skills that focus on the instruction of children from infancy through early grade school. Depending on the program, distance learners complete this program in as few as 12 months.
Online Master's Degree in Secondary Education
The master's degree in secondary education helps you develop the necessary instructional and leadership skills to become a teacher or school administrator. Professionals outside of teaching with this master's degree typically seek careers as principals, instructional coordinators, educational policy developers, educational consultants, and more. Full-time remote students usually finish this degree in two year or less.
Online Master's in English Education
These degree programs allow you to dive deeply into language development, literacy acquisition, and teaching methods. Upon completion of these programs, you will be able to implement the latest English-focused pedagogies, teach a diverse body of students at all learning levels, and assist with curriculum development. Most remote learners spend two years completing this program.
Online Master's in Mathematics Education
You can improve your depth of knowledge and improve your pedagogical skills in algebra, calculus, geometry, and more with a master's in mathematics education. You will learn the best teaching practices for secondary and post-secondary mathematics courses. These master's programs help you explore current issues and research in math education to ultimately improve the quality of education can offer your students.
Online Master's in Physical Education
If you have an interest in teaching physical education in schools or wish to become well-informed, effective sports coach, a master's in physical education maybe you could fit for you. Graduate students who pursue this degree learn the best techniques to maximize student health benefits while maintaining a safe and fun environment.
Online Master's in Science Education
In a science education master's program, you will explore the latest educational theories and research to improve your pedagogical skills. Upon completion of this degree, you will be prepared to work as a STEM educator and teach classes in physics, environmental science, chemistry, biology, and more at the middle school, high school, and community college levels.
Online Master's in Social Studies Education
Distance learners and social studies education programs typically focus on improving their K-12 social studies curricula and teaching methods. Additionally, over the span of two years, graduate students can also learn how to pursue social studies careers beyond the classroom including positions as curriculum developers, consultants, museum educators, and more.
Online Master's in Special Education
Graduate students in special education master's programs learn to provide educational and supportive services for students with emotional, cognitive, physical, or behavioral disabilities. These professionals typically move on to careers in public elementary and secondary schools. You may also pursue careers outside of public schools in the private sector including special care facilities.
Online Master's in Curriculum & Instruction
With a master's degree in curriculum and instruction, you can improve upon a school system's educational materials, implement new learning technologies, plan and organize teacher workshops, analyze important student learning data, and more. Ultimately, these professionals strive to create the most challenging and effective curricula so elementary and high school students can get the most out of their education.
Online Master's in Education Administration
School administrators ensure that schools follow established educational standards, stay within their budgets, and provide students with the best teachers and education possible. Professionals with a master's in education administration often obtain employment as principals, superintendents, admissions officers, and college deans. Most schools, colleges, and universities need multiple professionals trained in these areas to assume leadership roles.
Online Master's in School Counseling
A master's in school counseling prepares you for work in public and private institutions. Upon completion of the program, you will be able to guide students through emotional, social, and personal issues in addition to helping them prepare for a future career or additional education. The master's program ensures that you receive a full range of training to be able to handle diverse and complex counseling scenarios.
Practicum & Internships
Practicums and internships provide excellent learning opportunities outside the classroom. Both opportunities allow students to learn-by-doing and receive an authentic experience of what it is like to work in their area of the field.
Practicums take place in a more structured scenario under the guidance of a trained professional, supervisor, or faculty member. Students typically spend a few hours on-site each week for practicums.
Internships are similar to entry-level jobs and usually come with a significant amount of independence and responsibilities. Internships typically require students to commit to a regular part- or full-time schedule and usually last the duration of a semester or longer.
FAQs for the Online Master's Degree in Education
In order to organize the wealth of information about online education master's degrees, we distilled some of the most important points to consider as a prospective education graduate student. From licensure requirements to alternative career paths, the section that follows addresses some of the most commonly asked questions by curious degree seekers.
Will an online master's in education lead to licensure?
As you conduct research on perspective graduate programs, you will find that some programs offer tracks for students who already possess a teacher's license. Alternatively, there are programs designed to lead students toward licensure. The latter track includes special training that prepares you for licensure in all 50 states. Many education programs hold accreditation from the Council for the Accreditation of Educator Preparation (CAEP). With this credential, you can be sure that your school's online master's in education curriculum will provide you with the necessary training to pass required exams and skills tests.
How long does an online master's in education take?
The duration of your online master's program will vary between schools. Remote learners can spend as few as 12 months earning their master's degree. On the other hand, some distance students need approximately three years to meet all of the requirements. Much of this variance comes from the availability of classes and each school's graduation requirements. Some online programs feature self-paced courses, which some students can finish more quickly than cohort-learning or traditional classes. Graduation requirements may include a master's thesis or final project. These endeavors are often research-based and the time it takes to complete the requirements can vary greatly between students.
How much does earning a master's in education online cost?
The amount of money you spend on your master's education varies between schools. Depending on the program, online students may receive a tuition discount and pay less than traditional on-campus students. Some programs may require more credits for graduation than others. If your program requires a master's thesis based on original research, you may need to register for placeholder credits, sometimes referred to as "thesis credits," while you conduct that research. Aside from the number of credits, some schools may require distance learners to buy more books or supplies then others.
The table below shows the number of required credits and cost for several online master's in education programs. If cost is a critical factor for you, consider a program that made our list of the most affordable online master's in education degrees.
| School Name | No. of Credits | Cost/Credit | Total Cost |
| --- | --- | --- | --- |
| Walden University | 30 | $595 | $17,850 |
| Old Dominion University | 30 | $547 | $16,410 |
| Oregon State University | 52 | $560 | $29,120 |
| University of Nebraska – Lincoln | 36 | $356 | $12,816 |
| Park University | 30 | $580 | $17,400 |
What else can I do with a master's in education?
When most people think about a master's in education, they consider it advanced training for teachers working in classroom settings. While this is certainly one aspect of graduate-level training in education, there are far more careers available in additional fields and industries outside of the classroom. Many professionals with these degrees work in leadership roles at educational and nonprofit organizations. Some degree holders work as educational directors at zoos, museums, and aquariums. Alternatively, you could find yourself working for a technology company developing educational software, a publishing company working on school textbooks, or as a development specialist in a human resources department. The skills you acquire in an education program will come in handy in a variety of careers, so use your imagination and explore all of your interests or hobbies for related professional careers.