Best Online DSW Programs in 2023
If you're interested in reaching the top echelon of the social work field, you've likely determined you need a DSW degree to do so. Additionally, getting your DSW online may be the best way to get there. But how do you know which online DSW program is right one for you? Start by taking a look at our list of the best online DSW programs for 2023. You can search for programs by price, curriculum, program length, and more, so that you can quickly narrow down your options to and find programs that best suit your unique needs.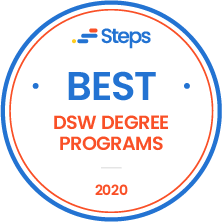 About the ranking
Methodology for the STEPS Best Online Programs in 2022
Generate List of Eligible Schools and Programs
To be eligible for this ranking, schools were required to meet the following criteria based on government data provided by The Integrated Postsecondary Education Data System (IPEDS).
Institutional accreditation from an organization recognized by the U.S. Department of Education.
At least one program in subject area offered partially or fully online.
Assign Impact of Data Points
After generating the list of eligible schools, the STEPS data team then assigned weights and ranked schools based on a mix of affordability, support services, and online program availability. Online program availability and overall affordability received the heaviest weightings.
Online Program Availability
Number of online programs in subject area reported by school to the U.S. Department of Education. When unable to verify this number, a star-based system was used to signify the number of programs relative to peers.
Affordability
Cost:
Relative cost of attendance compared to peer schools on the list. Based on tuition and fees per academic year.
Students w/ Institutional Aid:
Percentage of students who receive financial aid from the school itself.
Support Services
Academic Counseling:
Existence of this service on campus or online.
Career Placement:
Existence of this service on campus or online.
About Our Data
All STEPS rankings use the latest official data available from The Integrated Postsecondary Education Data System (IPEDS). Most recent data pull: July 2021
Why Earn Your DSW Online?
The Doctor of Social Work degree is a natural fit for ambitious professionals seeking to advance their social work practice and take on leadership and administrative roles that enable them to influence and shape organizational structures and policy. If you aspire to become a leader in the social work field, pursuing an online DSW program may be an excellent option.
The biggest advantage of an online DSW program is its convenience. Many students can earn their degrees while still working full-time in their profession. Online DSW programs recognize the need for flexibility in their students' study schedules, and as such, offer curriculums that combine synchronous classes at times that best fit their professional demands with asynchronous courses that can be accessed at any time. For busy professionals, there is simply no easier or more efficient way to earn a DSW degree than through an online program.
Inside the Online DSW Program Curriculum
DSW curriculums vary somewhat from program to program, each with its own unique academic focus and philosophy. Some programs additionally offer specialization options that affect curriculum subject matter. Nevertheless, virtually all DSW online degree programs have a similar course structure and learning outcomes, which are covered in more detail below.
Primary Learning Objectives
The purpose of the DSW degree is to prepare graduates for top practice, leadership, and administrative roles in the social work profession. DSW online programs are designed to meet a variety of primary learning objectives, including:
Providing advanced practice knowledge and skills beyond those obtained at the master's degree level, with pronounced emphasis on differential theoretical approaches.
Preparing students to create and implement innovative solutions to large-scale social challenges, such as homelessness, domestic violence, and economic and social inequality.
Teaching students to drive public discourse and policy on important social issues at community, regional, national, and international levels.
Popular Courses in DSW Online Programs
DSW didactic coursework places an emphasis on the subjects of advanced clinical theory and practice, social policy and discourse, and institutional and public leadership. Online programs commonly offer all or most classes in a fully-online format. Below is a sampling of courses commonly offered by online DSW programs:
Advanced Social Work Policy and Practice
Social work professionals with advanced degrees often encounter situations where they must know social public policies and how they relate to individuals and groups, as well as the community at large. In this class, students focus on creating and evaluating policies emphasizing social justice, diversity, and global impact. Specific topics covered include policy analysis and advocacy, and the role of ethics in shaping public social policies.
Advanced Social Work Practitioner – Leader of Social Change
Students in this course are taught to develop and articulate their own unique approaches and styles of social work leadership. Components of the class include an evaluation of various leadership philosophies, styles, skills, advocacy strategies, and available technologies. Students additionally create individualized plans for continuing their development as social work leaders following completion of the course.
Grant Writing and Administration
Competition for social services funding can be fierce, and procuring those funds is a top responsibility of social work leaders. In this course, students are taught how to identify funding sources and write effective grant proposals. Students also learn how to properly manage and distribute grant funds, and to evaluate funding outcomes.
Leadership and Management of Large Complex Systems
In this course, students learn strategies for creating, funding, and managing large-scale (local, state, and national) social services and academic programs. Topics covered include leadership skills, funding and budgeting, outcome assessment, inclusion and exclusion of individuals and groups, and the political implications of program policies.
Leadership in Public Discourse
Students in this class develop public discourse skills to increase participation, civic engagement, and public support for their social services programs. Topics discussed include social connectivity, program transparency, and the impact on vulnerable and at-risk populations. Particular focus is given to social media strategies, including how to create and evaluate social media marketing campaigns.
Psychopharmacology
This course offers an examination of the foundations of psychopharmacology through the use of case studies. Students are required to bring case examples (clinical details only) from their practices to class each week for evaluation and discussion by their classmates. The result is a better understanding of the applications and effectiveness of various medications.
On-Campus Residencies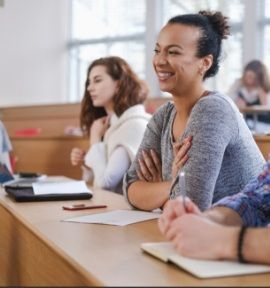 Online DSW programs offer students the convenience of studying from anywhere, but many programs still require students to complete in-person residencies. These residencies are valuable opportunities for students to interact with program faculty and peers, attend seminars, and develop their capstone projects. While most residencies are held at the main campus, some programs offer them at satellite campuses or other locations for added convenience. Typically, students are required to attend two residencies, which are usually offered during the summer. The length of each residency can vary, ranging from four days to two weeks, depending on the program.
Capstone Project
Most online DSW programs require the completion of a capstone project, with a select few requiring a dissertation instead. Capstone projects typically take the form of a written, publishable paper that identifies, analyzes, and offers solutions to a current social work-related problem. Content of the project is derived from the student's personal practice experience and immersion in applicable research literature. In-person oral presentation and defense of the capstone project is required. Students may have the option of presenting and defending their projects online in lieu of an on-campus, face-to-face presentation.
Answering Your FAQs About Online DSW Programs
DSW degree programs are a major time and money commitment, so it's crucial that students have a full understanding of this type of education before enrolling. Below are answers to some of the most frequently asked questions about online DSW degree programs.
How Long Does It Take to Earn a DSW Online?
Online DSW programs vary substantially in length depending on a range of factors, including the number of courses taken per semester and specific dissertation/capstone project requirements. Some accelerated programs may be fully completed in as little as 24 months, while others may allow up to five years or more. However, most online DSW programs are structured for three years (six semesters) of study for completion.
What's the Difference Between an Online DSW and a PhD in Social Work?
If you're considering a social work degree program, it's important to understand the key differences between a Doctor of Social Work (DSW) and a PhD in Social Work. While both can be pursued online, the DSW is a practice-oriented degree that focuses on developing leaders in the social work field who are skilled in policy-making and management.
In contrast, the PhD in Social Work is geared towards professionals who want to advance their careers in research and academia. While some DSW programs do offer coursework in education, the PhD in Social Work is the preferred degree for those who aspire to teach social work at the graduate or post-graduate levels. Regardless of your goals, understanding these differences can help you choose the right program to achieve your professional ambitions.
Choose the DSW if you … seek a career in advanced clinical practice, especially in the areas of leadership and administration.
Choose the PhD in social work if you … Seek a career in academic research or teaching.
Learn more about the social work PhD by visiting our dedicated page on PhD programs in social work.
Do You Need an MSW to Enroll in a DSW Program? What Are Other Admissions Criteria?
A previously-earned Master's in Social Work awarded by a CSWE-accredited program is a prerequisite for admission into most online DSW programs, but not all. Students applying to programs not requiring an MSW, however, must possess a master's degree in a closely-related field, such as business administration, education, marriage and family therapy, nursing, public administration, or public health. Specific degree majors accepted vary by program.
In addition to an MSW or other professional master's degree, most online DSW programs require the following for admission:
GPA: Virtually all programs mandate a minimum cumulative grade point average for all previous graduate coursework. Minimums of 3.0 to 3.5 are common.
Professional practice experience: Previous clinical practice experience is a requirement of almost all DSW degree programs. Minimum practice lengths vary, but two to three years or more is not unusual.
GRE: Some programs require submission of competitive scores on the verbal and quantitative portions of the Graduate Record Examination.
Other requirements may include a professional resume, personal statement, writing sample, and/or letters of recommendation. International students may be required to prove English proficiency, as evidenced by acceptable TOEFL or similar exam scores.
Are Online DSW Programs Accredited?
Programmatic accreditation of social work degree programs in the United States is administered by the Council on Social Work Education (CSWE). The CSWE is currently in the process of establishing accreditation standards for DSW degree programs, but has yet to begin accrediting such programs. There are, however, a number of things prospective DSW students can do to establish their confidence in the quality of the degree programs they are considering:
How Much Does an Online DSW Degree Cost?
The total cost of an online DSW degree varies significantly from program to program, due to factors such as whether the school is public or private, and whether the student is required to pay out-of-state tuition rates. The chart below provides examples of tuition costs for several online DSW programs. Keep in mind that these figures are based on per-credit rates, and that additional annual, course, and per-credit fees may apply. Students should also factor in the cost of books and supplies when determining the total bill for earning their degree.
School Name
No. of Credits
Cost/Credit
Total Cost
Tulane University
54
$1,134*
$61,236*
University of Pennsylvania
12 Course Units
$6,924** (2019-2020)
$6,554.33** (est. 2020-2121)
$78,986** (includes dissertation fees for 2 semesters)
University of Southern California
42
$1,928
$80,976
University of St. Thomas, Minnesota
45
$1,131
$50,895
University of Tennessee – Knoxville
48
$700*** in-state
$775*** out-of-state
$33,600*** in-state
$37,200***out-of-state
* Includes academic support service fee
** Includes general fee
*** Includes online support and library fees
What Can I Do with an Online DSW Degree?
Leadership is the key word when it comes to career opportunities for DSW degree holders. The DSW degree expands career options for social work professionals into executive and administrative positions throughout all areas of the social work and human services fields, and all sectors (private, government, non-profit) of the economy, both in the U.S. and internationally. Common job titles for DSW program graduates include:
Advanced Licensed Clinical Social Worker
Chief Executive Officer (CEO), Non-Profit Organization
Clinical Director
Director of Corporate Social Responsibility
Executive Director of Human Resources
While a PhD in Social Work is considered the preferred degree for academic research and education occupations, establishing successful careers in these fields by DSW graduates is far from unheard of.
Learn more about what you can do with a degree in social work.