Today's Best Online DrPH Programs: 2022
A Doctor of Public Health online degree is often the next step in a successful public health career for professionals already working in the field. Finding a school that's going to help you achieve your goals is the first step to moving your online DrPH forward. To help, we've identified some of the best online DrPH programs in the U.S. Not only does this list include a selection of accredited programs from across the country, but it also allows you to isolate the school and program features that are most important to you, such as cost, accreditation, and student benefits. See which schools with online DrPH programs stand out for the 2022 school year.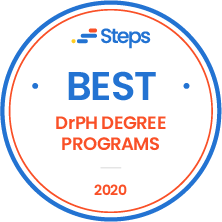 About the ranking
Methodology for the STEPS Best Online Programs in 2022
Generate List of Eligible Schools and Programs
To be eligible for this ranking, schools were required to meet the following criteria based on government data provided by The Integrated Postsecondary Education Data System (IPEDS).
Institutional accreditation from an organization recognized by the U.S. Department of Education.
At least one program in subject area offered partially or fully online.
Assign Impact of Data Points
After generating the list of eligible schools, the STEPS data team then assigned weights and ranked schools based on a mix of affordability, support services, and online program availability. Online program availability and overall affordability received the heaviest weightings.
Online Program Availability
Number of online programs in subject area reported by school to the U.S. Department of Education. When unable to verify this number, a star-based system was used to signify the number of programs relative to peers.
Affordability
Cost:
Relative cost of attendance compared to peer schools on the list. Based on tuition and fees per academic year.
Students w/ Institutional Aid:
Percentage of students who receive financial aid from the school itself.
Support Services
Academic Counseling:
Existence of this service on campus or online.
Career Placement:
Existence of this service on campus or online.
About Our Data
All STEPS rankings use the latest official data available from The Integrated Postsecondary Education Data System (IPEDS). Most recent data pull: July 2021
Earning a Doctor of Public Health Online
The Doctor of Public Health (DrPH) degree targets mid-career professionals in the field who are looking to grow as leaders in the health community. In contrast to the Doctor of Philosophy (PhD) in Public Health, the DrPH is more clinical in nature, helping students build knowledge and skills that apply directly to patient-oriented environments. Graduates of DrPH programs often build on current careers as health policy analysts, public health advisors or directors, or executives at non-profit organizations or private businesses. Luckily, today's colleges and universities are making it more convenient to earn a DrPH with the expansion of hybrid and online programs. Let's see how these online DrPH programs work, and see if this higher educational path might be right for you.
Is the Online DrPH Right for Me?
Earning a Doctor of Public Health online degree can be a great way to boost your career. It's also a way to bring what you learn back to the community in which you work. But does a PhD make more sense? And, should you consider face-to-face learning before exploring hybrid or online solutions? Each professional has his or her own preferences when it comes to higher education and career aspirations. Here are three ways to figure out if online DrPH programs make sense for you.
Career experience. Online DrPH programs usually attract public health professionals with at least three years of experience in a leadership position. Programs focus on sharpening existing skills and learning how to better serve community health needs both medically and administratively. Coursework may include public policy, crafting and managing public health campaigns, and how to communicate effectively with people from different backgrounds. If these skills fit into what you want to learn and how you want to grow in public health, then a DrPH might be a good choice.
Career goals. If you're considering an online DrPH online degree, start by mapping out where you want to go in the field. If you have your eye on a practical leadership position such as public health information officer, community health director, or research analyst, earning your Doctor of Public Health degree online could be a great way to achieve those goals. However, if you feel research and academia might be more your calling, the PhD could be the smarter move.
Flexibility. Online DrPH programs are built for flexibility, with most communication and collaboration taking place via the web. Asynchronous programs add even more convenience to the equation, allowing you to concentrate on schoolwork after hours and on whichever days work best for you. You may have deadlines to meet, but when and how you work toward those deadlines is up to you. Synchronous programs are less flexible, but still leverage the online platform. For example, students and professors often meet during pre-set hours, with presentations and other activities happening in real-time, as well. If you like flexible work and/or study schedules, the DrPH could be your ticket.
Are DrPH Programs Fully or Partially Online?
Depending on the program, DrPH students may be able to complete their studies entirely online, while other programs require that students complete some work online and some work on campus. In these programs, much of the curriculum can be done independently, so courses in areas such as organizational leadership, health behavior theory, epidemiology methods, health care marketing and public relations, and health policy can be taken online. However, in some cases, students are required to receive hands-on training. For example, Capella University offers an online DrPH program that requires a practicum, where students are expected to receive 100 hours of supervised training in a public health setting that has been approved by the school. During this time, students apply the skills they learned to the real-world, day-to-day issues that public health professionals face, and at the end of the practicum, they write a capstone paper that is the culmination of the competencies they gained throughout the program.
Can I Get into an Online DrPH Program?
Admissions requirements for online DrPH programs vary from one school to the next. However, prospective students are generally expected to:
have a public health master's degree from a school accredited by the Council on Education for Public Health
earn a certain minimum score on the GRE
submit writing samples
have a 3.5 minimum grade point average
submit letters of recommendation
submit a statement of purpose
submit a resume
have work experience in the public health field
Can I Specialize When Earning my Doctor of Public Health Online?
Students who enroll in an online DrPH program can usually concentrate their studies on a more specific aspect of public health. In fact, most students apply to and enroll in programs with specific concentrations that dovetail with their current profession. The following are examples of some of the concentrations that programs may offer.
Advanced leadership. This concentration is designed to help students hone their leadership skills and meet the challenges that come with running a public health care facility. Students who pursue this area may take coursework in organizational behavior, public health advocacy, and social media marketing.
Cancer prevention and control. With the effect of cancer devastating the lives of so many families around the country, some public health professionals may want to dedicate their careers to addressing this problem in their community. Students who enroll in this concentration learn about the environmental factors that contribute to the development of cancer, as well as how to track, control, and prevent the disease.
Demographic-focused studies. This specialization addresses the public health concerns of specific demographics in a community, such as women, the elderly, children, or people who are a member of a specific cultural or racial group.
Environmental health. The curriculum of this concentration addresses the relationship between the environment and the health conditions that people may develop. Specific topics studied may include water quality, environmental chemistry and biology, toxicology, air quality, and industrial hygiene.
Global health. Professionals who want to expand their understanding of public health issues beyond borders may enroll in a global health problem to learn about the complex issues that affect populations around the world.
Public health policy and law. Students who want to focus their studies on how health care and law intersect can enroll in this concentration to take coursework about advocacy, drug regulations, legal analysis, and health care ethics.
What's the Difference Between an Online DrPH and a PhD?
Although DrPH and PhD are both degrees on the doctoral level, they are not quite the same. It's important for students to understand the differences between these degrees to choose the one that best fits their career goals. For those who want a more practical degree program, where they learn how to become leaders in a public health setting, a DrPH program may be the better fit. However, those who are interested in academia, a PhD in public health is the way to go.
| | DrPH | PhD in Public Health |
| --- | --- | --- |
| Academic focus | Evidence-based | Research-based |
| Career track | Clinical/professional | Academia |
| Program type (common) | Part-time | Full-time |
| Program length | 4-5 years | 5-7 years |
| Primary students | Mid-career | Early career |
Does a PhD sound like the better fit? Read our full page about blended and online PhDs in public health.
What Is a Capstone Project? Is It Different from a Dissertation?
Capstone projects and dissertations are similar in that they require students to demonstrate their knowledge of a curriculum or academic field. However, capstone projects are designed to deliver a solution to a real-world problem and have a training component where students get hands-on experience in a public health setting. Dissertations add to the academic research of the field, and students conduct original research to an original and relevant issue.
How Much Does an Online DrPH Cost?
When DrPH hopefuls research schools, they should not only consider how the curriculum fits into their career goals, but also how the cost fits into their budgets. Since an online doctor of public health is a commitment of both time and money, students should look at the cost involved with earning this degree, as well as the financial aid that may be available to them. The following table outlines how much five different schools charge for their DrPH programs.
What Type of Accreditation Should I Look for?
As prospective online DrPH students research the schools they're interested in, they should also add accreditation to the list of characteristics they want in a school. However, it's important to know what kind of accreditation to look for. Regional accrediting agencies—like the Higher Learning Commission and Southern Association of Colleges and Schools Commission on Colleges—provide accreditation to the school as a whole. While important, people should also look for public health programs that have been accredited by the Council on Education for Public Health, which ensures the curriculum of a DrPH has been evaluated for quality by people with industry knowledge and experience.