Today's Best Online MSW Programs
Social work professionals with an MSW degree play a critical role assisting people in the community who are experiencing some of the hardest challenges in their lives, including mental health emergencies, domestic abuse, financial hardships, and deaths in their family.
To help prospective graduate students find the right school that will help them train for the rigors of social work, we have compiled the following list of the country's top online MSW programs, which are all accredited by the Council on Social Work Education. To help make the process easier, people can search the qualities in a school that are most important to them, such as accreditation, affordability, and student benefits, and then sort schools to compare what they have to offer.
About the ranking
Methodology for the STEPS Best Online Programs in 2022
Generate List of Eligible Schools and Programs
To be eligible for this ranking, schools were required to meet the following criteria based on government data provided by The Integrated Postsecondary Education Data System (IPEDS).
Institutional accreditation from an organization recognized by the U.S. Department of Education.
At least one program in subject area offered partially or fully online.
Assign Impact of Data Points
After generating the list of eligible schools, the STEPS data team then assigned weights and ranked schools based on a mix of affordability, support services, and online program availability. Online program availability and overall affordability received the heaviest weightings.
Online Program Availability
Number of online programs in subject area reported by school to the U.S. Department of Education. When unable to verify this number, a star-based system was used to signify the number of programs relative to peers.
Affordability
Cost:
Relative cost of attendance compared to peer schools on the list. Based on tuition and fees per academic year.
Students w/ Institutional Aid:
Percentage of students who receive financial aid from the school itself.
Support Services
Academic Counseling:
Existence of this service on campus or online.
Career Placement:
Existence of this service on campus or online.
About Our Data
All STEPS rankings use the latest official data available from The Integrated Postsecondary Education Data System (IPEDS). Most recent data pull: July 2021
Familiarizing Yourself with the Online MSW
Those who pursue a master's in social work online, which can take about two years to complete, are prepared to use advanced knowledge of social work theories and practices in order to provide services to a variety of clients. Students in these programs take courses that help them hone their leadership skills, use industry research and data to make decisions about the services they deliver, and understand the legal and ethical standards associated with their work.
Since many of the topics that students study in MSW programs can be learned online, there are distance education options they can choose to conveniently incorporate their education into their busy lives. These programs can be conducted completely online, or delivered in a blended format where students may be required to come to campus for some classwork in addition to their online efforts.
Explore Accredited Online MSW Programs in Popular Areas
Program Options for Online MSW Degrees
Master's in social work online programs are all created to provide expertise in the advanced knowledge and skills of the field. As a result, it's important for people interested in pursuing these degrees to understand their options and choose a program based on their professional interests and goals. The following provides an overview of the common online MSW programs that students can choose from and what they can expect to learn when they enroll.
Standard MSW Online
Standard MSW degree programs are for students who have bachelor's degrees in a discipline other than social work. Since students are just beginning their social work education, these programs generally take longer to complete than advanced standing MSW programs. As a result, part of the curriculum covers basic social work concepts, such as human behavior, social policy and services, and diversity. As the program progresses, students study more advanced topics like research methods, leadership in social work organizations, social work in a forensic context, and psychopharmacology.
In addition, students are required to participate in field experiences, so they have the opportunity to apply what they have learned to a real-world social work environment. During this time, students work in an agency setting where they get practical experience helping individuals and families under the supervision of a seasoned social worker.
Advanced Standing MSW
Advanced standing social work master's degrees are designed to provide a deeper understanding of the social work field to those who already have prior education experience in the field. As a result, these programs only admit students who have earned a bachelor's in social work from a school accredited by the Council on Social Work Education. Since students are already coming into the program with an understanding of social work basics, they are able to complete their studies in a shorter period of time—generally a year—than they would in a standard program.
During their studies, students in online advanced standing MSW programs learn practical applications for higher-level social work theories, which may include how to work with a specific population in the community, like military personnel, as well as how to run a social service agency. As with their counterparts in standard MSW programs, students earning advanced standing degrees are required to complete a field education component, where they continue building on their existing knowledge and skills in a practical context.
Online MSW Programs with No GRE Required
The Graduate Record Exam, or GRE, is a standardized test that is often required in order to gain admission to graduate programs. However, there are increasingly more and more schools, including those that offer online graduate social work degrees, that are choosing to waive the GRE requirement for admission because performance on the test may not be an accurate reflection of how well students will ultimately do. As a result, those who are interested in earning an online MSW may be able to save the time and stress of taking the GRE by applying to a school that does not require it for admission—but still offers the same quality education as programs that do.
Popular Specialization Tracks for MSW Students
Social work is a diverse field that allows professionals to specialize in several different areas. Students in online MSW programs who know what part of the field they want to pursue can enroll in a specialization track to build their expertise in that subject. Here are examples of some common specializations that can be found in online masters in social work programs.
Mental health social work
Students who enroll in this specialization take coursework that prepares them to diagnose people with mental health issues and provide the counseling they need to live a productive life. In addition, those who are interested in this area may learn how to work with people struggling with substance abuse disorders.
Medical and public health social work
Medical and public health social work programs prepare students to work in substance abuse treatment facilities, nursing homes, hospitals, and home health agencies by teaching them the clinical skills they need to work with vulnerable communities. These programs may familiarize students with how to help those with chronic illnesses, mental health problems, and physical disabilities.
Children, families, and couples
This specialization focuses on the needs of families who may be dealing with various problems related to abuse, trauma, depression, and behavioral disorders. The curriculum is designed to train people to work in child welfare and community social service agencies, as well as the juvenile justice system.
Social work administration
Those who aspire to take administrative positions—such as social work supervisor and program director—can enroll in this concentration in order to gain the leadership skills they need to be successful. Coursework covers topics such as advocacy, grant writing, social problems, public policy, and issues in social work.
Military social work
This specialization teaches students how to address the needs of the military community, from active duty soldiers to reserve military personnel to veterans. In order to do this, the curriculum addresses the specific needs of this community and the interventions that are most effective when providing services to them and their families.
What You'll Study in an Online MSW Program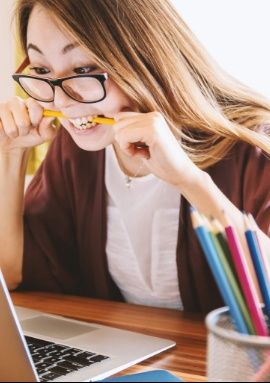 The following sections provide more in-depth information about the specific curriculum that can be found in online MSW programs.
While the exact courses may vary depending on which online MSW program students choose, the objectives of these degrees tend to be similar since departments craft a curriculum to help students become leaders in the field. In order to do this, schools instill advanced knowledge, skills, and competencies in students—such as the ability to assess individuals, groups, and families in order to provide the interventions that will help them with their unique challenges; use social-work related laws and ethical standards when deciding how to meet clients' needs; and apply their knowledge of social work concepts to achieve social and economic justice for the community.
Core Online Classes for MSW Programs
Online MSW programs offer diverse coursework in order to prepare students for higher-level positions in the field. The following are examples of classes they may be required to complete.
School Social Work Practice
These courses cover how to deliver interventions in a school setting. Students may learn how to work with young people who are members of vulnerable groups, such as those with physical or mental disabilities. In addition, these classes may teach students about the federal and state legislation that protects school children.
Assessment and Diagnosis
Clinical social workers have expertise in evaluating and diagnosing people based on diagnostic categories in the DSM-5, and this class is designed to help students develop these skills. Topics covered may include the types of assessment methods social workers use and how social and cultural factors may influence a particular diagnosis.
Program Management and Leadership
The administrative side of the social work field is explored in this course. Students learn how to identify goals and execute plans in a social work organization, manage and motivate staff, and effectively handle the complicated issues that social work administrators face.
Social Work Practice Research
Those who want to contribute to the knowledge base of the field can learn how to conduct qualitative and quantitative social work research in this course. Topics may include research design, ethical considerations researchers are professionally bound by, and software programs that help researchers analyze data.
Social Work Policy
Students in this course learn how to advocate for policies that advance the field and the well-being of the communities they serve. Coursework may cover policy analysis strategies, the relationship between social policy and power, and the legislative process.
Social Work Interventions
This class helps students cultivate the skills to provide interventions to clients with various problems. The curriculum may teach students how to work with those with drug abuse disorders, mental health issues, and child abuse backgrounds.
Field Education Requirements for MSW Students
In order to solidify the concepts they learned in their classes, MSW students are required to participate in field education, where they work in an agency setting under the supervision of an administrator or experienced social worker. During this time, students complete about 1,000 hours of hands-on training where they work directly with clients to develop competencies like assessment, intervention, and service evaluation skills. In addition, students sharpen their empathy skills and ability to consider the diverse backgrounds of clients when providing services.
Those in standard MSW programs may be required to complete a virtual fieldwork experience before they move on to working with clients in the real world. In this case, students work with actors who simulate the role of clients in crisis and they act out the interventions they would provide. After each roleplaying exercise, students get feedback from their supervising professor, as well as their peers.
FAQs About Earning a Master's in Social Work Online
Online social work degrees at the master's level prepare students to play an important role in the community, and as a result, people who enter these programs are expected to meet high standards and understand what is entailed in earning these degrees. The following FAQs address some of the important questions people should know as they navigate their way through the process of applying for, and working toward, these degrees.
What are the admissions requirements for an MSW?
When evaluating schools, hopeful MSW students should pay close attention to the specific admissions requirements of the programs they're interested in. Generally, social work master's degree programs expect applicants to:
Have a bachelor's degree
Complete a statement of purpose explaining their career goals and reasons for wanting to pursue a social work career
Participate in an interview
Submit letters of recommendation
Have a minimum 3.0 grade point average
Can you get an MSW without a BSW?
Yes, people who want to earn and MSW can enroll in a program without having a BSW. In these cases, they will enter a standard MSW program, where they will take core classes that teach them the basic tenets of the social work profession.
How long does it take to get an MSW online?
It typically takes students between one and two and a half years to complete their MSW degree online, depending on the type of program they enroll in and their previous academic background. Standard MSW programs typically take two years to complete while students in advanced standing MSWs can usually finish their coursework in a single year. Whether the program is full-time or part-time will also greatly affect the required time.
What type of accreditation should my online MSW have?
People who are interested in earning their masters in social work online may have various career goals and educational needs, but what they all have in common is that they should only enroll in a school accredited by the Council on Social Work Education (CSWE). The organization, which accredits almost 300 MSW programs, evaluates social work schools based on their curriculum, mission, and goals in order to ensure they are training students to work up to the high standards expected of professionals in the industry. In addition to receiving the high-quality education that students deserve, attending an accredited school ensures that they will be able to obtain a license from their state after they have completed the program.
A full list of accredited online MSW programs can be found on CSWE's website.
What are some career options after I graduate with an MSW degree?
There are several career options for graduates of online MSW programs. For example, people who are interested in working with children may work as a child welfare case worker or school social worker. Professionals who are interested in treating people with mental health issues may decide to get a job as a clinical mental health social worker. Other jobs these professionals occupy include health care administrator and public health social worker. More in-depth information about jobs for MSW graduates can be found on our what you can do with a degree in social work page.
How much does it cost to get your MSW?
The exact cost of online MSW degree programs vary from one school to another. Some of the most affordable online MSW programs have very reasonable costs, for example. In order to make an informed decision about what school to attend, prospective students should research not only what different programs have to offer, but also their cost. The following table provides a glimpse at how much some MSW programs cost, as well as the number of credits that are required to complete the degree.
*Note: This data represents tuition costs only. Additional fees will likely apply. Check individual college websites for complete cost figures.