Best Online Master's in Public Administration Degrees in 2023
People who want to take leadership roles in government agencies and nonprofit organizations can prepare for the responsibilities of these important positions by enrolling in online MPA programs. These degrees teach students to recruit and manage employees, make data-driven and ethical decisions, and oversee finances. Learn more about the curriculum, jobs graduates qualify for, and where to find the best online MPA programs.
Last Updated: 05/02/2023
Sponsored
publicservicedegrees.org is supported in part by advertisements. Featured programs and school matching are for institutions that compensate us. This compensation will never influence our school rankings, in-depth guidebooks, or any other information or resources published on this site.
The Best Online MPA Programs of 2023
To identify the most suitable online MPA program for your needs, it is essential to consider various factors, including total cost, available concentrations, program format and duration, and admissions prerequisites. To assist you in locating a program that will provide the greatest return on your investment, we have created the following rankings, which provide information on the best online MPA programs available throughout the country. Examine the list, then sort and filter programs according to the attributes that are most important to you to find your ideal school match.
About the ranking
Methodology for the STEPS Best Online Programs in 2022
Generate List of Eligible Schools and Programs
To be eligible for this ranking, schools were required to meet the following criteria based on government data provided by The Integrated Postsecondary Education Data System (IPEDS).
Institutional accreditation from an organization recognized by the U.S. Department of Education.
At least one program in subject area offered partially or fully online.
Assign Impact of Data Points
After generating the list of eligible schools, the STEPS data team then assigned weights and ranked schools based on a mix of affordability, support services, and online program availability. Online program availability and overall affordability received the heaviest weightings.
Online Program Availability
Number of online programs in subject area reported by school to the U.S. Department of Education. When unable to verify this number, a star-based system was used to signify the number of programs relative to peers.
Affordability
Cost:
Relative cost of attendance compared to peer schools on the list. Based on tuition and fees per academic year.
Students w/ Institutional Aid:
Percentage of students who receive financial aid from the school itself.
Support Services
Academic Counseling:
Existence of this service on campus or online.
Career Placement:
Existence of this service on campus or online.
About Our Data
All STEPS rankings use the latest official data available from The Integrated Postsecondary Education Data System (IPEDS). Most recent data pull: July 2021
How to Choose the Right Online MPA Program for You
There are a variety of online MPA programs that give students the chance to study in a way that's convenient for them as they take coursework to gain the expertise they need to excel in their field. Although the needs of students are different, there are some common factors that all students should evaluate when looking at programs. When researching schools, people should consider:
Whether or not a school is accredited and what organization provides the program's accreditation
How much the program costs
What concentrations are offered by the program
Career services offered by the school
Networking opportunities for current students and alumni
Opportunities to earn joint degrees
Background of faculty members in the department
Number of transfer credits that can be applied
What You'll Learn In an Online MPA
Online MPA programs are designed to teach students skills and knowledge to become leaders of public organizations and government agencies. By the time you graduate, you should expect to gain proficiency in the following areas:
Using critical thinking to solve administrative challenges
Creating and implementing public administrative policies
Understanding seminal public administration theories and how they are applied in the real world
Understanding how public administration research is conducted
Using management principles to lead small, medium-sized, and large nonprofit organizations
Using financial management skills in government agencies and nonprofit organizations
Developing, implementing, and monitoring budgets
Recruiting, hiring, and successfully onboarding quality staff members
Understanding ethical principles and how they are applied in public administration settings
Effectively communicating with an organization's stakeholders.
Concentrations Available for Online MPA Degrees
Many students decide to earn an MPA with a specific career path in mind, and in order to help them achieve these goals, online programs may offer concentrations that allow them to gain relevant expertise. The following are examples of some of the areas that students can focus their studies on.
Nonprofit Management
Although general leadership skills can be applied in the public and private sectors, managing a nonprofit organization comes with its own set of unique challenges. Students in this specialization learn how to tackle these challenges through classes in effective nonprofit leadership, government regulations for nonprofit organizations, and grant writing.
Health Services Administration
Those who are interested in a career in health services organizations or public health agencies can enroll in this concentration in order to learn how to plan, organize, and manage health-related programs. Specific coursework may cover health care law and ethics, strategic communication methods, finance and budgeting, and leadership skills.
International Relations
Students who are interested in applying their skills to helping the global community can enroll in this concentration to learn how public administration principles are applied on an international scale. The specific classes may cover national security, foreign policy, intercultural communication, and diplomacy.
Local Government
This specialization provides a look at what it's like to work in local government administration. Students may learn about parks and recreation management, urban planning, waste management, and budgeting.
Human Rights and Humanitarian Policy
This concentration is for students who are interested in human rights issues in the government, as well as in private companies and nonprofit organizations. Students who choose this area take classes about humanitarian policies, human rights advocacy, the politics of reconciliation, and genocide prevention.
Core Classes in an Online MPA Degree Program
No matter what area students choose to specialize in, the core curriculum in online MPA degree programs is designed to give them the leadership and analytical skills they need to tackle organizational and policy issues. The following are examples of classes students can expect to take during their degree program.
Strategic Planning
Addresses planning strategies that professionals use to overcome the complicated challenges that organizations may face. Coursework covers engagement processes, environmental analysis, and organizational transformation. In addition, students may learn how tactics and strategies differ and when the use of each one is appropriate.
Arts Administration
Students learn about how arts and cultural administration work in nonprofit organizations, as well as government agencies. Specific topics may include the history of arts and cultural administration, and how the arts affect the economy and the people who consume them. In addition, there is a discussion of the different types of arts and cultural organizations and how they are managed.
Public Administration Research Methods
Introduces the different ways research is conducted and how studies are designed and executed, as well as how results are written up and presented. Students may learn about the principles of quantitative and qualitative research methods, and the computer programs that are used to compile and analyze data.
Project Management
Students learn the fundamental concepts of how projects are managed, including determining project scope, time management, project design, and the different roles that workers take during the length of a project. Also, the course helps students understand how these ideas are applied in private companies, government agencies, and nonprofit organizations.
Sustainability Management
No matter where those with MPA degrees decide to spend their careers, sustainability will be a concern as organizations are increasingly looking for solutions to decrease their footprint. This course introduces students to the theories of sustainability management and how organizations create an environmentally-sound workplace.
Leadership and Ethics
Discusses the relationship between ethics and good governance, and the consequences leaders face when they go against these principles and behave in a corrupt manner. In order to illustrate the concepts taught in class, students may be required to read case studies that outline examples of good ethical leadership, as well as ethical failures.
Budgeting
This course provides a look at how budgeting is handled in government agencies on the local, state, and federal level, as well as in nonprofit organizations. Topics may include debt management, cost-benefit analysis, tax policy, and expenditures.
What Can You Do with a Master's in Public Administration?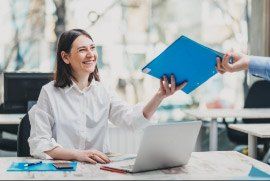 Completing an online master's degree in public administration provides numerous opportunities for pursuing managerial careers. Graduates can apply their expertise in various settings such as city government agencies, nonprofit organizations, healthcare providers, or private companies. The MPA program curriculum provides a skillset that equips graduates for success in their future roles. Below are some examples of job positions that MPA graduates can qualify for.
City Manager
City managers, who are appointed by elected officials, oversee the smooth running of all operations within a city. Whether managing a small or large city, their responsibilities encompass a wide range of duties including budgeting, supervising specific departments, and representing the city during public events such as conferences.
Budget Director
Given that funding for government and nonprofit organizations can be limited, budget managers play a crucial role in optimizing the use of available resources. Budget directors conduct extensive research and analyze financial data to determine the allocation of funds and identify areas where costs can be reduced to make the most of the available budget.
Director of Development
Fundraising managers are responsible for overseeing an organization's fundraising efforts. They manage the recruitment and training of volunteers, provide information to the public about the organization's mission and activities, and supervise the work of fundraisers on staff.
Human Resources Director
Human resources directors play a vital role in ensuring that organizations, whether nonprofit, private, or government, have the right employees for their needs. They manage the recruitment, hiring, and training processes of new employees, while also creating and managing benefits and compensation packages. Additionally, they resolve employee conflicts and work to maintain a positive work environment.
Public Affairs Director
Public affairs directors are responsible for ensuring that their organization or agency has a positive public perception. In order to do this, public affairs directors grant interviews to reporters, write press releases, and participate in fundraising events.
FAQs About Earning Your MPA Degree Online
How long does it take to earn a master's in public administration online?
The exact amount of time it takes to complete an online master's in public administration depends on the program students enroll in. However, generally MPAs can take around two to five years to complete, depending on the program and whether students enroll on a full- or part-time basis. The number of credits students must complete can also differ between schools. For example, the online MPA program at Excelsior College requires students to complete 30 credits, while the University of San Francisco requires 38 and Capella University has a 48-credit program.
How much does an online MPA degree cost?
While finding an online MPA program that has the right curriculum and concentrations is important, prospective students should still consider tuition rates and total out-of-pocket costs. In order to help you get an idea of how much a master's in public administration will cost, we have gathered the per credit tuition of five different schools. Review the table below for a glimpse into what MPA students pay for their education. Then check out our ranking of most affordable online MPA programs to find quality programs with low costs.
What are the admissions requirements for online MPAs?
Admissions requirements for online MPA programs vary from one school to another, but generally, applicants are expected to meet the following criteria for acceptance:
A minimum 3.0 grade point average
Letters of recommendation
Resume
A high score on the GRE
Statement of purpose explaining why they are interested in enrolling in an MPA program
Meeting with a representative from the MPA department
Is it possible to enroll in an online MPA without taking the GRE?
Yes. Although many schools require that applicants earn a certain score on the GRE to gain admission, more and more MPA programs are waiving this requirement because the test is not necessarily a predictor of how successful an applicant will be. Instead, these schools are relying on other factors, like grade point average and professional experience, in order to make their admissions decisions. Alternatively, some MPA programs may allow you to submit a GMAT score instead of a GRE.
Will I learn the same skills in an online MPA as an on-campus program?
Although some prospective MPA students may be reluctant to enroll in an online program because they're concerned about quality, they can rest assured that they will receive the same high-caliber education that their on-campus counterparts do. In many cases, online programs feature the same curriculum as the traditional versions, so as long as distance students keep up with their work, they will reap the same benefits as other students.
Accreditation for Master's in Public Administration Online Programs
Accreditation is an extremely important factor that prospective MPA students should keep in mind when choosing an online program because it certifies that a school offers a quality curriculum. In order to receive this designation, schools are rigorously vetted to ensure that they are training students to industry standards.
The Network of Schools of Public Policy, Affairs, and Administration (NASPAA) is responsible for accrediting MPA programs, including those taught online. During the accreditation process, the organization reviews a self-report of schools' curriculum, mission, and outcomes, as well as visits the campuses in order to verify the information provided.
Beyond NASPAA accreditation, students should check to make sure the university they are researching holds institutional accreditation, which governs the entire school, not just the MPA program. Search the U.S. Department of Education's Database of Postsecondary Institutions and Programs to check a school's accreditation status.