The STEPS Guide to
Affordable Housing
From public housing & subsidizing living to rent help and other assistance, get expert
advice and find the resources you need to secure an affordable home.
Meet the Expert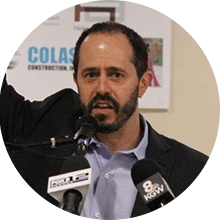 Andy Miller
Andy Miller is the Executive Director at Human Solutions, a nonprofit that helps homeless and low-income families build pathways out of poverty. He has over 25 years of experience and leadership advancing the cause of social justice in Oregon and beyond. Before joining the team at Human Solutions, Andy served as Chief Operating Officer at Volunteers of America Oregon.
Too many Americans struggle to find affordable housing. Each year, millions of U.S. families either can't pay their rent, go through one or more evictions, or spend weeks (and sometimes months) without a stable place to live. In 2016, an estimated 2.6 million evictions were processed across the country — about 4 every minute. If you or someone you know is homeless, housing insecure, or in danger of becoming one of the two, this page can help.
Although STEPS focuses on educational opportunities in public assistance, part of that includes self-education. Understanding what rights and resources you have available when it comes to affordable housing can be the difference between chronic housing insecurity and landing in a safe and secure home for the long-term. Learn about some of today's best programs for housing help, if and when you qualify, and how to take the first step toward getting the assistance you need.
Understanding Homelessness and Housing Insecurity in America
Homelessness and housing insecurity in the U.S. are widespread issues with no simple solutions. While these challenges affect people across all communities, there can be many misconceptions and stigma around homelessness and housing insecurity.

Facts About Homelessness and Home Insecurity in America
What Is Housing Insecurity?
Housing insecurity refers to a wide range of housing challenges that can impact a person's ability to maintain safe, consistent shelter. This includes:
Difficulty paying rent
Difficulty paying utilities
Evictions and forced moves
Doubling up (sharing housing to cut costs)
Living with more people than the space is meant to house
Living in poor quality housing
Living in unsafe housing
Living somewhere with limited access to critical amenities and services, like transportation, jobs and schools
Living in spaces not meant for housing, like cars or warehouses
Moving frequently
Homelessness
People can be housing insecure without being homeless. Likewise, people can have a place to live and sleep and still be considered homeless. Couchsurfing and staying with family members temporarily because you can't afford a place of your own are examples of housing insecurity as well as homelessness. Struggling to pay rent each month but still pulling it off is an example of housing insecurity without homelessness. In this situation, homelessness may still be a risk.
Getting Help for Housing Insecurity and Homelessness
Housing insecurity and homelessness include many layers and interconnected socioeconomic issues, such as job insecurity, food insecurity, criminalization of homelessness, and the poverty cycle. There are no quick fixes, but one of the first steps improving the country's housing situation is to collect and share resources. The resources below can help you find shelter and permanent housing, regardless of the reasons behind their circumstances.
Public Housing
"31% of public housing residents are seniors (> 62 years old), 30% of public housing households include a non-elderly family member who experiences a disability, and 3.3 million children live in public housing."
-National Housing Law Project
Public housing is a program of the U.S. Department of Housing and Urban Development (HUD) that aims to provide affordable housing rentals to low income individuals and families.
How does it work?
HUD provides financial assistance to local public housing agencies (PHAs) that manage low-income rental units throughout the country. There are currently around 1.2 million public housing units throughout the United States. Tenants typically pay 30 percent of their income after deductions for rent and utilities, and the HUD funding covers the remainder. Housing can include single family houses as well as apartments.
PHAs receive funds from Congress and must follow the rules Congress establishes, but as long as they stay within those guidelines, PHAs can create their own policies and procedures suited to their local areas.
Who is eligible?
Eligibility is determined by individual PHAs but is limited to low-income families and individuals. Low income is 80 percent and very low income is 50 percent of the area median income (AMI), or the median income of the county or metropolitan area in which you live.
PHAs take into account your household's annual gross income; whether your household includes elderly persons, persons with disabilities or a family; and U.S. citizenship or eligible immigration status. Undocumented immigrants do not quality for public housing.
Eligibility does not guarantee approval for housing. Individual housing agencies may prioritize some applicants over others.
How can you apply?
Contact your local PHA for application information. Applications must be handwritten by you or a housing agency representative. Once filled out, a PHA representative will go over program options that may be available to you if you are determined eligible. If eligible, you will be notified in writing and put on a waitlist. Waitlists can be very long, but you will be contacted when your name reaches the top.
More information and support
HUD's Public Housing ProgramFind more detailed information about the public housing program at the HUD website.
PHA Contact InformationThis interactive map can help you get the contact information for your nearest PHA office.
HUD's Local OfficesIf you can't contact your PHA, HUD recommends calling one of their local offices. Access that information here.
Income LimitsIncome limits for public housing change each year. Check this page for current income limits.
Local Public Housing Agencies
Local public housing agencies administer federal housing aid programs, like the ones listed above, but they may also offer their own forms of aid not tied to federal funding.
How do they work?
If you feel that you may not qualify for federal programs like housing choice vouchers or project based housing, you should still contact your local PHA. Many PHAs offer state- and locally-funded assistance that are accessible to people who may not qualify for HUD programs.
For example, Home Forward, a PHA in Portland, Oregon, works with organizations throughout the community to provide temporary assistance to those experiencing or at risk of experiencing homelessness. They may help with rent or mortgage payments, move in costs and application fees to those facing eviction or looking for permanent housing. They also help connect people to temporary shelter and offer motel and hotel vouchers. This particular PHA offers short-term aid for up to 24 months, but limits and durations of aid vary between housing agencies.
Directory of Local Public Housing Agencies
Your local public housing agency can help connect you with federal and local housing assistance programs and provide you with specific application and eligibility information. This interactive map from HUD offers contact information for PHAs throughout the United States. Click on your state to access a PDF with the contacts for all the PHAs in the area.
Housing Help for Veterans
Veterans are disproportionately affected by homelessness. In 2017, according to the Annual Homeless Assessment Report, veterans accounted for 8.7 percent of the U.S. adult population but made up 10.8 percent of the adult population experiencing sheltered homelessness. In that year, 118,380 veterans used an emergency shelter or transitional housing project at some point. For various reasons including disability, mental illness and difficulty reentering the civilian workforce, housing can be a significant challenge to veterans. Federal housing programs like the ones below also come with case management services to provide vets with extra support.
HUD-VASH
HUD-VASH, or Veterans Affairs Supportive Housing, is a collaborative program between the U.S. Departments of Housing and Urban Development and Veterans Affairs. It offers both choice housing vouchers and VA healthcare services to homeless veterans and their families.
How does it work?
HUD-VASH aims to help those veterans who are most at-risk by offering two-pronged support. Veterans who are chronically homeless and may have severe mental or physical health problems or substance abuse issues are this program's top priorities. However, you do not need to have a mental illness or substance abuse disorder to participate.
Rental assistance vouchers can be used to find private, permanent housing. Veterans Affairs Medical Centers (VAMCs) partner with PHAs. The VA and HUD distribute vouchers to VAMC case managers, who then help eligible veterans find appropriate public housing through their partnering PHA. PHAs determine the voucher amount, and participants pay the difference, which is typically 30 percent of their adjusted income.
Who is eligible?
You must be a veteran who qualifies for VA healthcare services, and you must be experiencing homelessness. There may be additional criteria from both the VA and your PHA, so be sure to check with both organizations.
How can you apply?
To apply, you can contact your local VA Homeless Program or the HUD-VASH program directly. You can also obtain referrals from a VA case manager or someone who works with you in another community program.
A trained VA responder will talk to you about your housing needs, request your contact information and follow up with options near you that may fit your needs.
More information and support
Housing Help for Seniors
Seniors and people with disabilities account for 46 percent of extremely low income renter households, making it important for seniors to have affordable housing options. Low income seniors may qualify for many of the other programs in the guide, but there are also housing options that offer additional support to meet their specific needs.
Supportive Housing for the Elderly
The Section 202 Supportive Housing for the Elderly program helps seniors access affordable, independent living with support services like help with cooking, cleaning and transportation.
How does it work?
When the program first started, nonprofits received loans from the HUD to acquire, build or renovate buildings to provide affordable housing with support services for seniors. While no new buildings are being built for Section 202 housing, those that currently exist provide affordable housing options to low-income seniors.
Some properties do not provide rental assistance, but tenants pay a budget-based rent based on the property's operating costs. In other units, tenants pay no more than 30 percent of their adjusted income. Welfare rent or payments from an agency may also be used to assist low-income households with seniors pay for supportive housing.
Who is eligible?
To be eligible, you must be at least 62 years old or be living with someone who is at least 62 years old. Your household must also be considered very low-income. Your income status is determined by annual income limits set by HUD.
How can you apply?
Contact your local PHA or Multifamily Office for program details and application assistance.
More information and support
Emergency Help for Housing Insecurity and Homelessness
Homelessness and housing insecurity can affect all types of people, including those who don't fit into the categories above or qualify for federal assistance programs. If you or someone you know needs help with a housing emergency, there may be other resources available to them both nationally and in your local community.
Domestic violence or other dangerous home situation
If you are in a violent or otherwise unsafe housing situation, it's vital to your wellbeing that you get out. Women and children's homeless shelters can provide immediate temporary housing and guidance for those who need to get out of dangerous homes. There may also be homeless shelters that cater to members of the LGBTQIA+ community who are unsafe or unwelcome at home.
National Domestic Violence HotlineIf you are experiencing domestic violence, visit the National Domestic Violence Hotline website or contact them via phone or text to get help and resources.
Women's SheltersThis website is updated regularly with shelters for women, children and domestic abuse survivors.
Forced to leave a home that is no longer inhabitable due to fire, hurricane, etc.
General housing emergency
Emergency housing for youths and college students
Housing for People Experiencing Homelessness
Finding solutions to homeless is often not a straightforward process. Many people qualify for the programs above and other basic needs support but have limited access to support and may not know where to begin. If you are trying to find housing aid or you are helping someone else connect with resources, these tips can help put you on the right path.
Tip #1: Find the resources in your area
If you don't know where to find resources, don't worry; other people and organizations in your community do. Calling 2-1-1 or visiting your state's 2-1-1 website can connect you to a range of housing and other basic needs organizations and information. You can also talk to the people at your local library or community center. These are community resources, and the people working there often have the experience and knowledge to help. They can point you to housing nonprofits, government organizations, religious charities, food banks and other resources in your area.
Tip #2: Get a valid ID
Not having an ID can make it extremely difficult to get out of homelessness. Valid ID is required to access many government buildings where social services agencies typically are, apply for government aid, cash checks and access medical care.
Some states waive ID fees for people experiencing homelessness, but that is not an option for many people, and with the adoption of Real ID, even with fees waived, the process of getting all the paperwork and documentation required is a huge barrier. If you have access to your birth certificate, this may be sufficient. If you don't, other acceptable proof of identity may include your social security card, arrest record, school enrollment record, immigration documents, identifying Native American tribal documents or voter registration records. Your state DMV can tell you which documents are acceptable.
If you don't have access to any of these documents, people who work for organizations that serve homeless communities may be able to help.
Tip #3: Get a P.O. box
In order to apply for jobs, housing and some forms of aid, you need a mailing address. If you don't have a permanent residence, you can apply for a P.O. box at the post office. In some cases, P.O. boxes are free for homeless customers. If you have an established relationship with the post office worker helping you get set up, you may not even need an ID. You will, however, need an established point of contact, like a shelter, social services organization, employer or another agency that serves people experiencing homelessness.
Tip #4: Check all of the resources and agencies in this guide
Don't assume you do not qualify for the programs covered in this guide. Contact the agencies directly or get help from someone who specializes in connecting homeless individuals to housing resources. Many aid programs can work with people in special circumstances, so even if you don't meet all the criteria, ask if anything can be done or if they can recommend resources that better fit your situation.
Tip #5: Ask for help if you need it
It can be helpful to have someone who is trained in helping people find housing provide some guidance. Housing nonprofits and government organizations are often staffed with people who can help you navigate the application process and obtain the documents you need to apply.
Tip #6: Be persistent and diligent
Finding housing can take time, and it sometimes requires multiple phone calls or office visits. Follow up with organizations to check the status of your application and make sure you've submitted everything correctly.
More information and support
PATH
Projects for Assistance in Transition from Homelessness, or PATH, is a grant program funded by SAMHSA. Grants are distributed to all states and territories within the U.S. and can be used to provide different types of assistance and services for people with serious mental illness who are also experiencing homelessness.
How does it work?
States receive PATH funding and must match at least one third of their grant amount through public and private donations. This helps ensure a variety of organizations and types of aid are accessible to those who need them.
Organizations using PATH funding may provide a wide range of service or focus on one or two. Services supported by PATH include:
Outreach
Screening and diagnostic treatment
Habilitation and rehabilitation
Community mental health
Substance use disorders treatment
Referrals for primary health care, job training, educational services and housing
Housing services, like repairs or one-time rental payments to avoid eviction
PATH housing aid is a form of project-based housing assistance.
Who is eligible?
You must be homeless or at risk of homelessness. Additionally, you or a member of your household must have a mental illness.
How can you apply?
Contact individual PATH program providers that offer programs suited to your needs. Not all PATH providers address housing, but different providers may be able to point you in the right direction, and they may offer unexpected aid that can also help your situation. Each program and provider may have different application processes appropriate to the services they offer.
More information and support
Homeless Shelter Directory
If you are experiencing immediate homelessness or are looking for a point of contact and source of additional resources, homeless shelters in your area may be able to help. Homeless shelter directories like the ones below can help you find shelters nearby that meet your specific needs, like facilities that cater to women or young people. Directories may also show contact information and locations of food pantries, low-cost healthcare facilities and aid organizations, like your local HUD office.
Searching for homeless shelter directories specific to your city or state may yield more results, too.
Insight from an Expert on Home Insecurity and Homelessness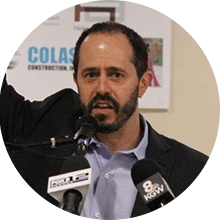 Andy Miller is the Executive Director at Human Solutions, a nonprofit that helps homeless and low-income families build pathways out of poverty. He has over 25 years of experience and leadership advancing the cause of social justice in Oregon and beyond. Before joining the team at Human Solutions, Andy served as Chief Operating Officer at Volunteers of America Oregon.
Many issues that affect people who are homeless or housing insecure make resources intended to help those populations difficult to access. What are some of those challenges, and what can people do? What resources are available?
IDs, digital divide, transportation to and from organizations are all potential barriers, but they pale in comparison to the simple ratio between need and available resources. Human Solutions runs out of rent and financial assistance every month under our public contracts and has to turn away far more folks than we are able to help – especially with longer-term assistance programs. So it takes the right combination of persistence and fortunate timing to access assistance. I have looked a lot at the "barrier busting" and navigation approaches to ending homelessness. They are fine and admirable, but they are a little like equipping folks to "get better" at musical chairs. As long as there are fewer chairs than people, the same number of folks keep getting eliminated. Again – it is not to say programs that break barriers don't help people, but it is a lot of human energy going into tweaking a broken system – maybe redirect some of that energy to fixing and appropriately resourcing the system?
Those who apply and are eligible for long-term affordable housing options may be put on a waitlist for an extended period before housing is actually available to them. What can they do to alleviate their housing insecurity or homelessness in the interim?
Housing insecurity and homelessness rarely exists in a vacuum; many interrelated issues may be at play, like food and job insecurity. What are some of the best ways for people to alleviate some of the burden of housing insecurity by addressing some of these other challenges? What resources are available, and how can they impact a person's housing situation?
Many people may not realize they are housing insecure or may think that seeking assistance is appropriate to their situation. How can they determine whether or not they need assistance and what type of assistance may be a good fit?
Many people may not meet the income requirements for federal aid programs but still struggle with housing insecurity. What options are available for people walking that line?
How can people looking to help address homelessness and housing insecurity make an impact?
Is there anything else you'd like to address?